Annual Report FY20: Remarkable Change
Letter from Our CEO
First, on behalf of all of us at Mid-America Arts Alliance, I hope you and yours are healthy and well.
The fiscal year 2020 will be defined by the COVID-19 pandemic and its crushing effects on the region and the creative economy. It was also a year when the need to eradicate systemic racism and commit to social justice presented itself front and center. In early spring 2020, we rushed to reschedule programs, identify areas of greatest need, and rework our systems of operations. In the pre-pandemic period, M-AAA was on its way to another remarkable year. We had finished a new strategic plan for the organization and our transformative program Artist INC celebrated its tenth anniversary. Museums, libraries, and other community venues across the country booked ExhibitsUSA exhibitions at record levels.
The events which began in spring 2020 allowed us to recommit to leading through service and focus on how we could help artists and arts and cultural institutions that lie at the core of M-AAA's stakeholders. In completing a comprehensive Strategic plan just as COVID-19 overwhelmed the world, this new plan served as a roadmap for M-AAA's journey during these uncertain times with a focus on support for the artists and arts and cultural institutions across our region.
Federal CARES Act relief grants were awarded quickly and prioritized in partnership with our state arts agencies and the six Regional Arts Organizations began to work collaboratively to find solutions to support the arts and culture infrastructure across the nation. Artist Services drew artists together to share information and create unity as a salve to turbulent times. Staff and partners rerouted dozens of exhibitions, placing them in secure storage until hosts could reopen. Grant parameters were expanded, and organizational cohorts were supported online. It was a year to stretch in new ways of service.
So as we reflect on this past year, please review the new five-year strategic plan. See how you and your community fit into strengthening the arts ecosystem.
As we continue to grow and change, I join you in looking forward to the return of vibrant and healthy days ahead.
Take care,
Todd Stein, President and CEO
Our Financials, Impact, and Reach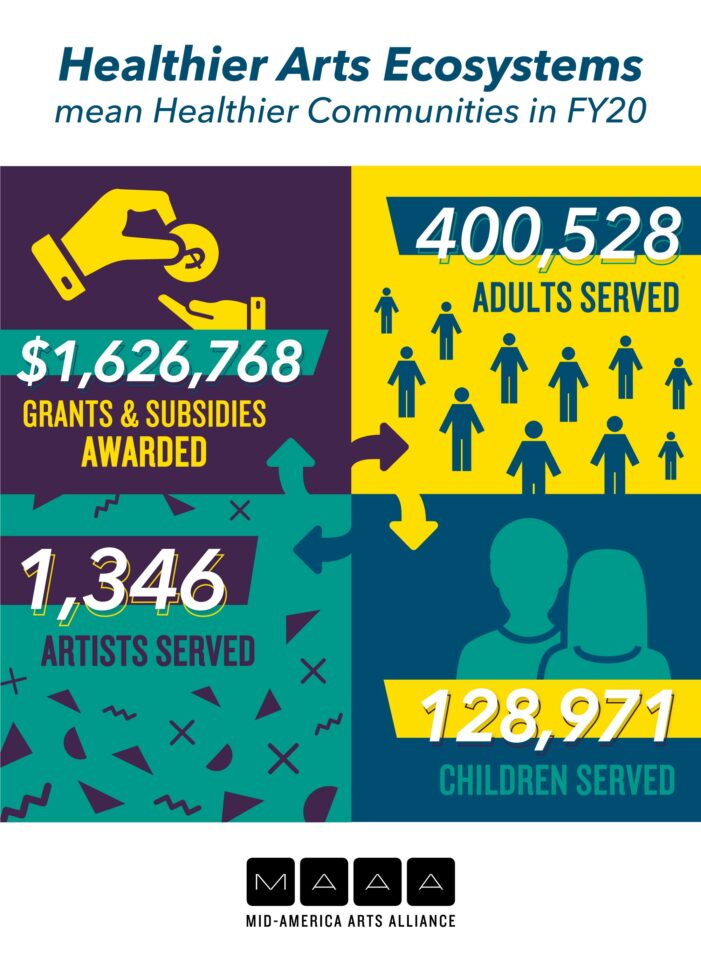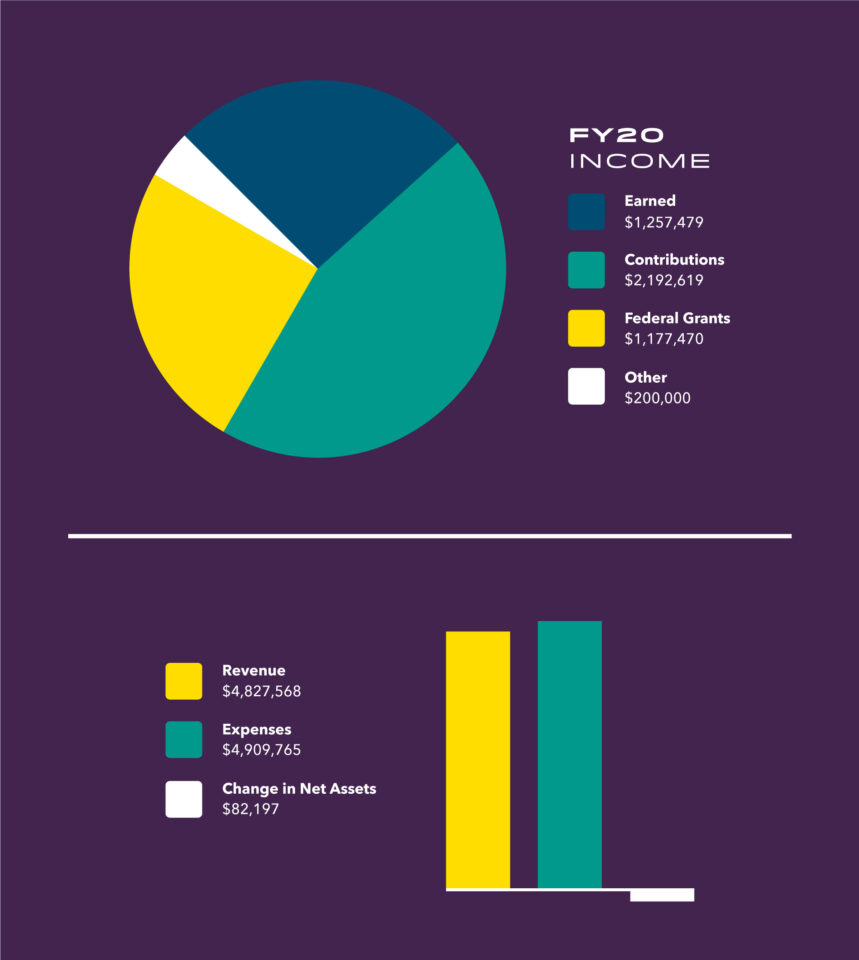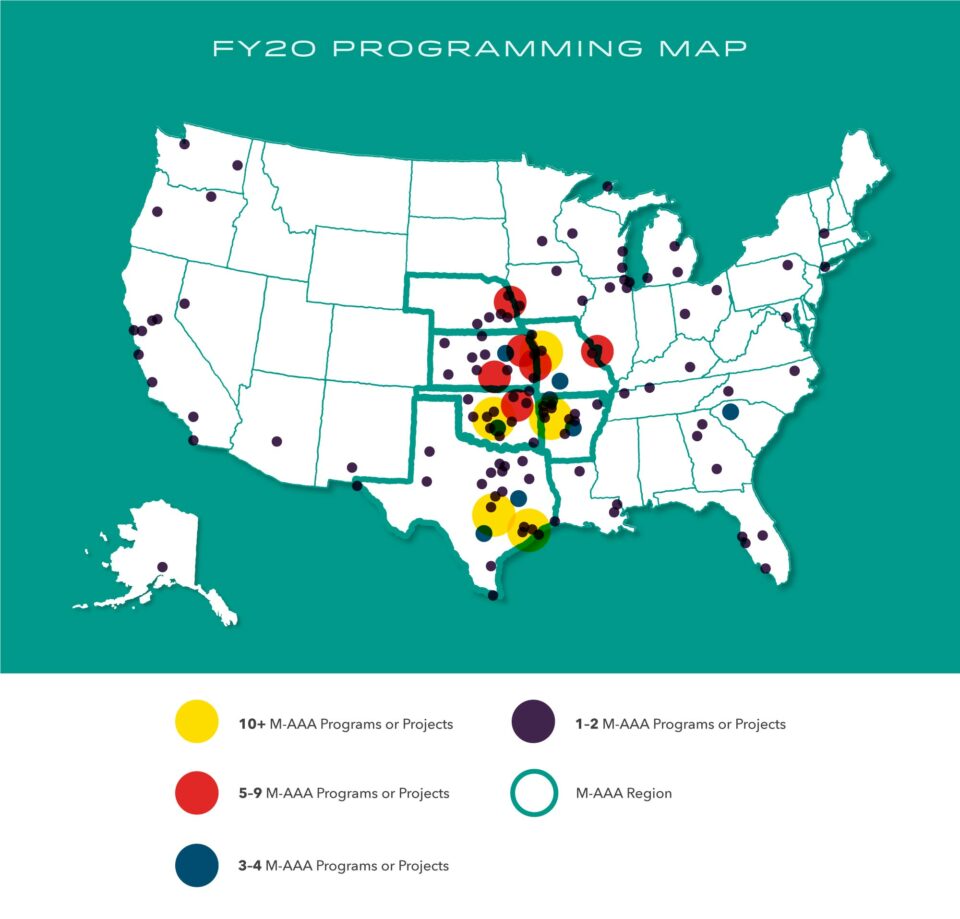 FY20 Programs
We proudly present our FY20 programs:
Artist INC connects artists of all disciplines to the tools, resources, and the opportunities necessary to develop their entrepreneurial skills and to strengthen their artistic practice.
Artistic Innovations a grant program that encourages the spirit of experimentation and exploration, exclusively engaging in-region artists in the creation of new, original works for audiences in the M-AAA region.
Artists360 gives artists from the Greater Northwest Arkansas area a platform to succeed and grow with grantmaking and professional development.
Engage provides community-centered professional and organizational development that focuses on leadership training for small to midsize arts and cultural organizations.
ExhibitsUSA is a traveling exhibition program that creates access to an array of arts and humanities experiences, nurtures the understanding of diverse cultures and art forms, and encourages the expanding depth and breadth of cultural life in local communities.
Interchange recognizes the role of individual artists as change agents and connectors in the cities and towns where they reside, supporting them with grantmaking and professional development.
NEH on the Road is a partnership with the National Endowment for the Humanities, touring large-scale humanities exhibitions scaled for smaller spaces.
Regional Touring Program provides grant support for regional presenting organizations to showcase the work of artists from outside their home states.
Special Grants: Pandemic Relief in the form of CARES Act relief funding, supported by the National Endowment for the Arts
Our FY20 Donors
We are so grateful to all of our donors, without whom this wonderful work would not be possible.
Our Institutional Donors
$500,000+
Houston Endowment
The Andrew W. Mellon Foundation
National Endowment for the Arts
National Endowment for the Humanities
$100,00-$499,999
Ewing Marion Kauffman Foundation
Walton Family Foundation
Windgate Charitable Foundation
$50,000-$99,999
The Brown Foundation, Inc.
$25,000-$49,999
Muriel McBrien Kauffman Foundation
William T. Kemper Foundation, Commerce Bank, Trustee
Arkansas Arts Council
Kansas Creative Arts Industries Commission
Missouri Arts Council
Nebraska Arts Council
Oklahoma Arts Council
Texas Commission on the Arts
$10,000-$24,999
The Cooper Foundation
The Cross Foundation
Francis Family Foundation
Hallmark Corporate Foundation
Kirkpatrick Family Fund
South Arts
Richard J. Stern Foundation for the Arts, Commerce Bank, Trustee
Kathleen Patton Westby Foundation
$5,000-$9,999
Tricor Braun
John Steele Zink Foundation
Lobeck Taylor Foundation
$1,000-$4,999
City of Kansas City, MO, Office of Culture and Creative Services
McCasland Foundation
Our Individual Donors
Marian Anderson
Billie Barnett
Susan Barrett
Lona Barrick
Sharon Beshore
Dale Brock
Ed Clifford
Steve Crays
Daniel Dean
Stacy Dillon
Carolyn Dillon
Michael Donovan
Kathy Dowell
J. Robert Duncan
Ken Fergeson
Lillie Fontenot
Linda Frazier
Denise Garner
Jane Gates
John Gaudin
Gary Gibbs
Kay Goebel
Jan Gradwohl
Linda Hatchel
Garbo Hearne
Candy Henning
Travis & Sue Hiner
Joan Horan
Peter Jasso
Don and Alice Johnston
Ruth Keene
Nancy Lee Kemper
Holbrook Lawson & Rick Holder
Antzee Magruder
Joan and Mitchell Markow
Larry and Cynthia Meeker
Dorothy Morris
Don Munro
Ann Neal
Gregory Perrin
Patrick Ralston
Margie Reese
Nola Ruth
Dan Sabatini
Rhonda S. Seacrest
Amber Sharples
Susan Sherman
Todd Simon
Todd Stein
Melissa Thoma
Art Thompson
Kym Koch Thompson
James R. Tolbert III
Frank Uryasz
Kate Van Steenhuyse
Richard and Karen Vierk
Suzanne Wise
Photo credit: Interchange grant recipients gather for a convening at M-AAA, August 2019. Photo by Jennifer Wetzel.