January 5, 2022
$1.1 Million Awarded in American Rescue Plan Grants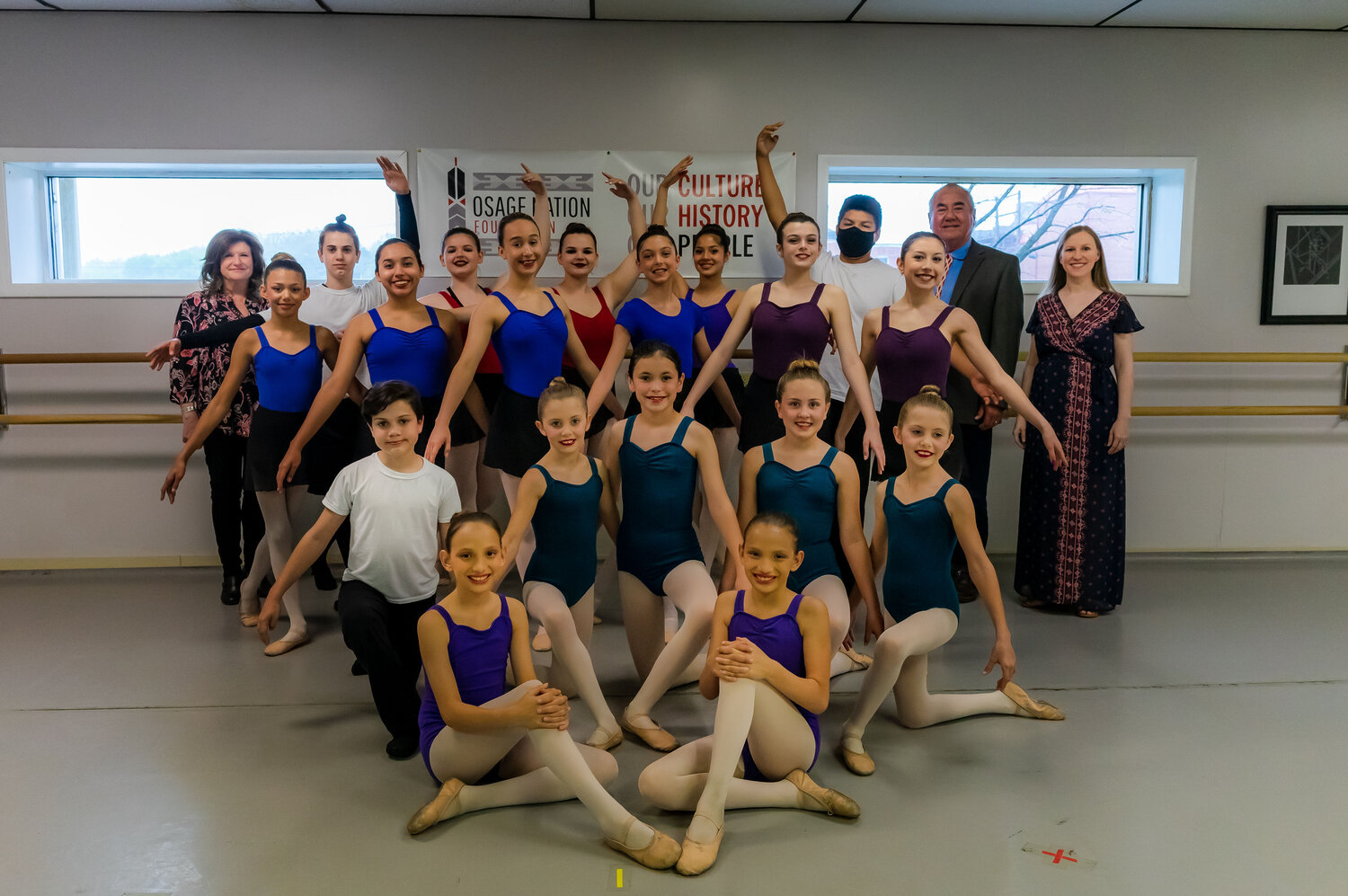 M-AAA Grants Go to Small Arts and Culture Organizations
Mid-America Arts Alliance (M-AAA) has awarded fifty arts and culture organizations in its region $1,104,600 to support critical, day-to-day operating costs. The grants were made possible through funding M-AAA received from the National Endowment for the Arts through their allocation of funds from the American Rescue Plan Act (ARPA). M-AAA awarded grants, ranging from $10,000 to $40,000, to small arts and culture organizations with annual budgets in 2020 of no more than $500,000.
"Osage Ballet is thankful for Mid-America Arts Alliance and their generous support," says Randy Tinker Smith, Wahzhazhe Ballet Director. "We currently have 77 students in our ballet school located on the Osage Nation Reservation. The funding will enable us to continue high-quality dance instruction in our rural community, as well as a yearly Spring Performance and The Nutcracker Ballet in December. Many of our students had to leave because of COVID/Pandemic issues. We are looking forward to rebuilding our program and the opportunities our children have ahead of them."
Todd Stein, President and CEO of M-AAA, said, "The impacts of COVID-19 on the arts and creative sector have been tremendous. We are thankful to share these funds from the National Endowment for the Arts' allocation from the American Rescue Plan with arts organizations to assist in their recovery from the ongoing pandemic."
M-AAA's ARP grantmaking of $1,104,600 follows earlier pandemic relief of $591,900, also provided through our partnership with the National Endowment for the Arts. In total, M-AAA has provided $6 million in relief funding to artists and arts organizations throughout its six-state region during the pandemic.
(Pictured, from Osage Ballet: The children of the Wahzhazhe Cast with Chief Geoffrey Standingbear, Choreographer Jenna Smith LaViolette, and Director, Randy Tinker Smith. Photo by Cody Hammer)
Arkansas Recipients
Arkansans for the Arts, Little Rock, AR: $11,150
Calico Rock Museum & Visitors Center, Calico Rock, AR: $40,000
Hot Springs Area Cultural Alliance, Hot Springs, AR: $10,000
Open Mouth Reading Series, Fayetteville, AR: $10,000
Ra-Ve Cultural Foundation, Bentonville, AR: $20,000
Voice of Arkansas Minority Advocacy Council, Jonesboro, AR: $20,000
Kansas Recipients
Arts Council of Johnson County, Overland Park, KS: $40,000
Harvester Arts, Wichita, KS: $20,000
Kansas Alliance for the Arts in Education, Salina, KS: $10,000
Lawrence Children's Choir, Lawrence, KS: $20,000
Manhattan Arts Center, Manhattan, KS: $20,000
Missouri Recipients
Arts Asylum, Kansas City, MO: $10,000
Black Archives of Mid-America, Kansas City, MO: $40,000
Black Repertory Theatre of Kansas City, Kansas City, MO: $20,000
Bootheel Youth Museum, Malden, MO: $40,000
Dances of India, St. Louis, MO: $10,000
Intercultural Music Initiative, St. Louis, MO: $40,000
Missouri Alliance for Arts Education, Maryland Heights, MO: $21,150
No Divide KC, Kansas City, MO: $20,000
Nebraska Recipients
Benson First Friday, Omaha, NE: $40,000
Blue River Arts Council, Crete, NE: $10,000
Circle Theatre, Omaha, NE: $20,000
El Museo Latino, Omaha, NE: $40,000
BLIXT Locally Grown, Lincoln, NE: $20,000
Nebraskans for the Arts, Omaha, NE: $11,150
Nebraska Writers Collective, Omaha, NE: $40,000
Prairie Arts Center/Creativity Unlimited Arts Council, North Platte, NE: $20,000
West Nebraska Arts Center, Scottsbluff, NE: $10,000
Why Arts, Omaha, NE: $20,000
Oklahoma Recipients
Osage Ballet, Skiatook, OK: $10,000
Black Liberated Arts Center, Oklahoma City, OK: $40,000
Choregus Productions, Tulsa, OK: $40,000
David-Waldorf Performing Arts Series at the University of Science & Arts of Oklahoma, Chickasha, OK: $20,000
Mabee-Gerrer Museum of Art, Shawnee, OK: $20,000
Oklahomans for the Arts, Oklahoma City, OK: $40,000
Texas Recipients
Capitol View Arts, Austin, TX: $20,000
Community Artists Collective, Houston, TX: $20,000
Community Music Center of Houston, Houston, TX: $40,000
East Lubbock Art House, Lubbock, TX: $10,000
Flatlands Dance Theater, Lubbock, TX: $10,000
Harris County Cultural Arts Council, Houston, TX: $20,000
India Fine Arts, Austin, TX: $20,000
Make Art with Purpose, Dallas, TX: $10,000
Museum of Human Achievement, Austin, TX: $40,000
Pegasus Media Project, Dallas, TX: $20,000
Puerto Rican Folkloric Dance, Austin, TX: $20,000
Texans for the Arts, Austin, TX: $11,150
TILT, Austin, TX: $10,000
Trucha, McAllen, TX: $20,000
USA Film Festival, Dallas, TX: $10,000