October 12, 2023
$1 Million Invested in Northwest Arkansas Artists Since 2018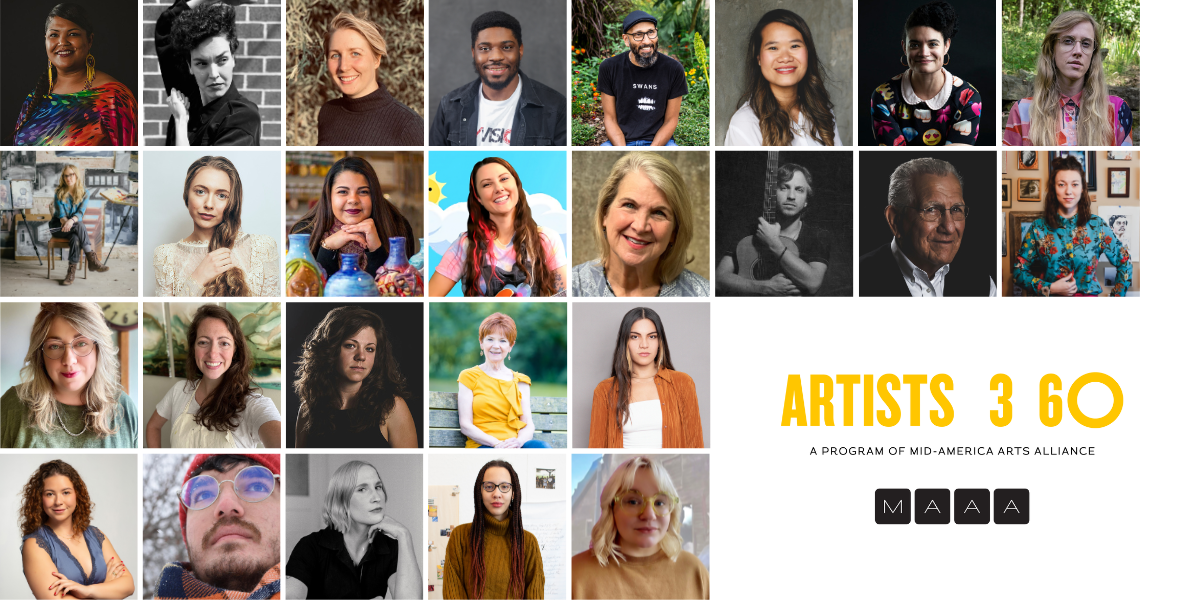 M-AAA selects 25 artists for its sixth cohort of Artists 360 grant and professional development program
The Walton Family Foundation provided $230,000 in funds for Mid-America Arts Alliance's Artists 360 grant awards this year, up from $214,000 in 2022. The additional philanthropic support allowed Artists 360 to grant $1 million to Northwest Arkansas artists since 2018. Over the six years, the program has awarded grants to 138 artists, including the newest cohort of 25 artists announced today.
"The unprecedented investment of $1 million in grant funds to individual artists has had such a profound impact on the arts ecosystem and creative economy of Northwest Arkansas," says Diane Scott, director of M-AAA's artists services. "The individual projects this investment has directly funded are diverse and inspiring. Indirectly, the investment has led to an even broader pool of innovative work through multiple project iterations and collaborations. What I'm most excited about, however, is the exponential increase in artist peer-to-peer support that the gift ignites in the region year after year."
Artists 360 elevates the talented artists of Northwest Arkansas by providing grant funding and professional development opportunities to individual artists of all disciplines in the Arkansas counties of Benton, Carroll, Crawford, Sebastian, and Washington. By elevating local artists, Artists 360 brings value to the greater Northwest Arkansas region overall, creating a place where creativity and the arts can thrive.
The 25 Northwest Arkansas artists selected for this year's Artists 360 cohort are 14 practicing artists with $8,000 project grants; 6 student artists with $3,000 grants; and 5 Community Activator artists with $15,000 grants. With the additional funding, Artists 360 doubled grants to student artists from previous years (from $1,500) and practicing artists received a $500 increase (from $7,500). The artists were notified of the surprise additional grant amounts with their award letters.
"This award comes at a critical point in my career where I'm fresh out of graduate school but still not yet settled into professional work as a playwright and screenwriter," says Adrienne Dawes, a practicing artist grant recipient from Fayetteville. "I'm grateful for M-AAA funding to support my project (a screenplay adaptation of my play Hairy & Sherri) and to offer a way for me to employ local actors in its development. This single award actually helps sustain multiple artists at once and gives everyone within this year's Artists 360 cohort opportunities to build community and share resources."
Along with direct grants to selected artists, Artists 360 offers intensive professional development through cohort-based training, one-on-one coaching sessions, peer networking opportunities, retreats for participants and alumni, and an alumni showcase event.
Selected artists include a wide range of disciplines and perspectives and were selected through a competitive application process. They are:
Community Activator Grants ($15,000)
Heidee Lyn Alsdorf (Bentonville)
Tram Colwin (Siloam Springs)
Mike Day (Rogers)
Sangeet Gupta (Fayetteville)
Julia Paganelli Marín (Fayetteville)
Practicing Artist Grants ($8,000)
Ashtyn Barbaree (Fayetteville)
Jay Benham (Rogers)
Rachel Borntrager (Fayetteville)
Adrienne Dawes (Fayetteville)
Jessica Hale (Bentonville)
Jake Hertzog (Fayetteville)
Amber Imrie (Winslow)
Cynthia Kresse (Eureka Springs)
Candy Lee (Fayetteville)
Sarah Loucks (Fayetteville)
Azalia Molina (Springdale)
Lacy Post (Fayetteville)
Amy Scoggins (Fort Smith)
Suzanne Underwood Rhodes (Fayetteville)
Student Grants ($3,000)
Ana Buitrago (Fayetteville)
Joaquín Gavilano (Fayetteville)
Melissa Loney (Fayetteville)
Larissa Ramey (Fayetteville)
Jocelyn Reid (Fayetteville)
Augusta Zuerker (Lubbock)
Creative Impact Award ($25,000)
Lakisha Bradley (Fayetteville)
This year's Artists 360 Creative Impact Award was awarded to Lakisha Bradley for contributing to and nurturing the region's cultural ecosystem. It was announced by M-AAA last month. The Creative Impact Award provides one exceptional artist based in Northwest Arkansas with unrestricted funds of $25,000 and professional development opportunities, including retreats that facilitate network building.
For more information about M-AAA's Artists 360 program, please visit artists360.art.
Artists 360 is made possible through philanthropic support from Steuart Walton and Tom Walton through the Walton Family Foundation.
About Walton Family Foundation
The Walton Family Foundation is, at its core, a family-led foundation. The children and grandchildren of our founders, Sam and Helen Walton, lead the foundation and create access to opportunity for people and communities. We work in three areas: improving K-12 education, protecting rivers and oceans and the communities they support, and investing in our home region of Northwest Arkansas and the Arkansas-Mississippi Delta. To learn more, visit waltonfamilyfoundation.org and follow them on Facebook, Twitter and Instagram.