August 26, 2022
50 Stories | Artist Michael Roqué Collins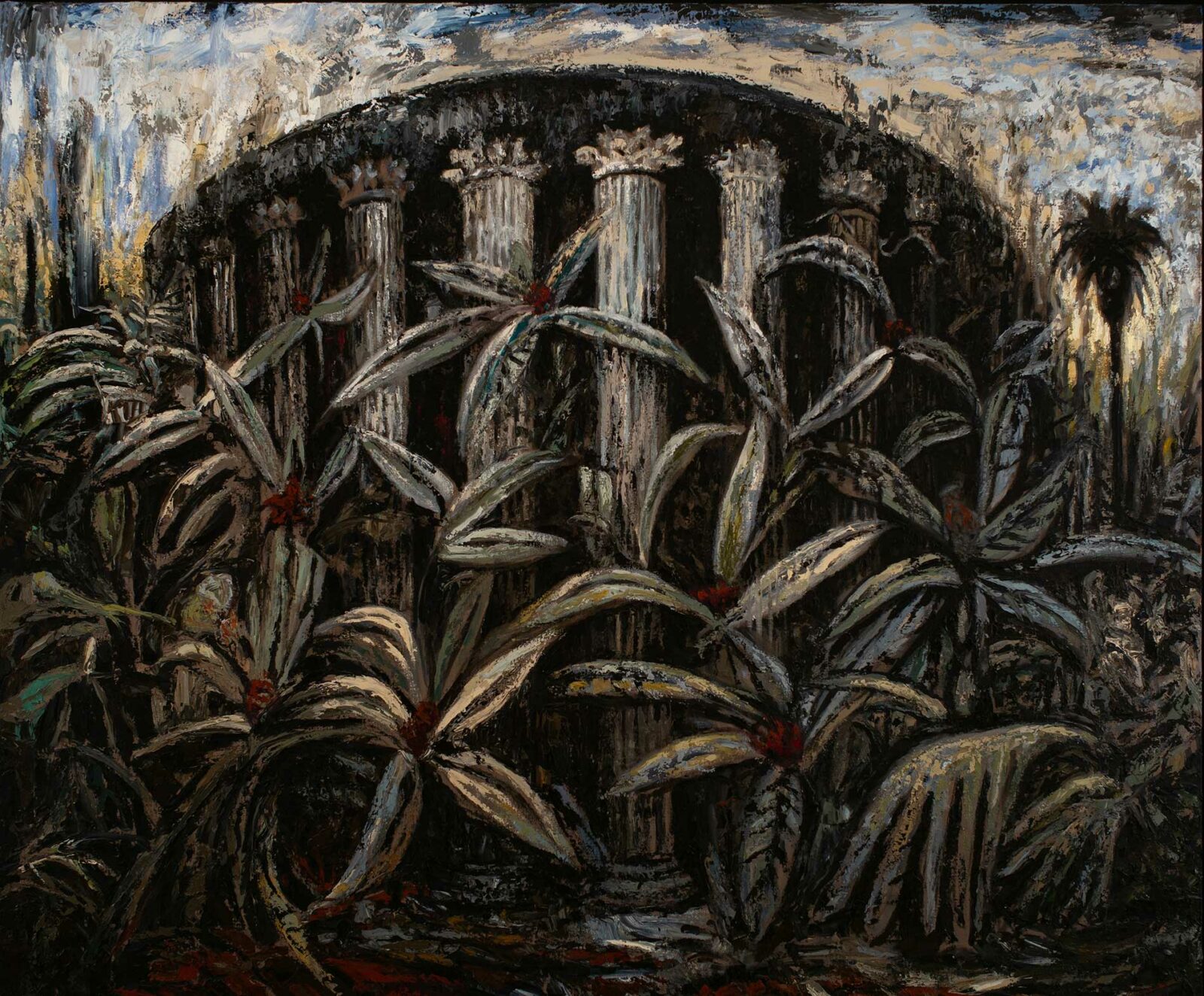 Mid-America Arts Alliance (M-AAA) is celebrating its 50th year of ensuring more art for more people—strengthening and supporting artists, cultural organizations, and communities throughout our region and beyond. Founded in 1972, M-AAA has awarded grants to artists and arts organizations, helped to bring cultural programs to communities urban and rural, and empowered creatives throughout Arkansas, Kansas, Missouri, Nebraska, Oklahoma, and Texas; across the nation; and internationally. As part of its anniversary recognition, M-AAA is pleased to share 50 Stories | 50 Years, a weekly series of stories and statements submitted by colleagues, program participants, and others that speak to M-AAA's profound impact on their lives, creativity, communities, and the region.
This week's story comes from painter Michael Roqué Collins, a recipient of a Fellowship for artists from Mid-America Arts Alliance in FY1994. The $5,000 grant boosted Colllins' career as an artist. He is currently a Distinguished Professor of Art and Senior Artist in Residence for painting at the MFA program at Houston Baptist University in Houston, Texas.
M-AAA: Tell us about your work and creative life.
MRC: Since childhood, my art has evolved with the benefit of initial classical training to investigate the big ideas of life through processes and content that might be identified as tenants of post symbolism. My art is rooted in consciences and content where my ideas, often generated by dreams, are connected through the expression of scared landscapes, ruins, gardens, and coastal petrochemical elements. These subjects are juxtaposed through ambiguous forces including dark emerging to illumination, abstraction balancing with figuration and the mythic colliding with the quotidian. My paintings often reflect dystopian realms funneled through cyclical patterns of destruction that express the terrible beauty that is our human condition all the while possessing the juices of belief. Moreover, my art is often described as the art of the indeterminate. "At once it struck me what quality of…achievement that is (when one) is capable of being in uncertainties, mysteries, doubts, without any irritable reaching after fact and reason." John Keats, 19th Century English Poet.
M-AAA: How did Mid-America Arts Alliance change the trajectory of your work?
MRC: In the mid-1990s I was awarded four important grants, which further enabled my early art making. Three were awarded through the Cultural Arts Council of Houston for excellence in painting. One of these also possessed a project grant to help pediatric cancer patients at MD Anderson Cancer hospital. Perhaps the most valuable grant award came from Mid-America Arts Alliance and the National Endowment for the Arts for excellence in painting and works on paper. The funds from this grant allowed me to expand the depth and scale of my painting practice as I was better able to afford the highest quality stretchers, linen, and pigments when these supplies were most needed. Also, it allowed further travel opportunities in Europe and specifically Italy where I was able to deepen my gathering of reference materials, which have been an invaluable inspiration and thematic source for my paintings.
M-AAA: What or who inspires you?
MRC: My inspirations come from life, belief, dreams, my conscience, and content found through living, nature, ruins, and artists who have shared so much with my artmaking practice. The study of art history has allowed me to creatively stand on the shoulders of artists whose works still speak to my creative voice. Rembrandt, VanGogh, Tuner, Goya, Albert Pinkham Ryder, Beckman, Kieffer, and the Contemporary Romantic artists, all have inspired and broadened my creative practice as an artist. Of most importance are the closest artists who taught me during my formative period of growth. My father Lowell D. Collins, mother Glinda Collins-Raulston, my aunt Judy Pritchett and uncle Joe Pritchett along with a grandmother were all trained artists and aided me in countless ways. These early family teachers along with subsequent artists and art history faculty such as John Simple, Richard Stout, Derek Boshier, John Biggers, Dr. Alessandra Comini, Dr. Chillman, and Bill Komodore all were most helpful to my development as an artist.
M-AAA: What will be your next art experience?
MRC: My next experience as an artist will be creating more artworks within my current series, Transmissions of Light. Along with these efforts my gallery in Santa Fe, LewAllen Galleries, will be producing a second hard-bound book publication on my art and organizing a traveling thirty-year mid-career solo survey that will travel to a variety of museums in the US. There is also a third hard-bound book proposal, which will be a legacy publication project with a traveling two-person exhibition of my art and that of my artist father Lowell D. Collins.
M-AAA: What is your favorite place to explore art in your state of Texas?
MRC: One of my favorite places to explore art in Texas is in Houston the art capital of the third coast. The diversity and richness of content and process seem ever-evolving and are most exciting. I am very proud to be making art in this community. Also, of great importance is the superb museum collection of the Ogden Museum of Southern Art in New Orleans, Louisiana, where my art is part of their permanent collection. Their curator Bradley Sumrall is a stand-out curator and his efforts produce each year's most powerful exhibitions reflecting the best of arts throughout the Southern US, including Texas.
M-AAA: What has been your favorite collaboration in the past year?
MRC: My favorite collaboration in the past year was the Blue Norther exhibition at the Silos in Houston. It was comprised of mostly sculptors, though I was one of a few painters invited to present a large oil, from my Sojourns in The Shadowlands series—that deals with the WWII holocaust and Auschwitz—and was able to build an interior environment supporting the themes of the painting titled Three Ruins.
M-AAA: Where do you see your practice in the arts ecosystem in your community?
My art, over the past decades beginning in the late 1970s, has evolved through local exposure as well as regional, national, and international exhibition opportunities. My creative efforts here in Houston have clearly been part of the arts ecosystem over these many decades and my service to the community has not only been my art, as it has clearly evolved well beyond the local environment, though as an artist educator. Teaching since 1975, I am currently a Distinguished Professor of Art and Senior Artist in Residence for painting at the MFA program at Houston Baptist University and as one of its founders, I feel very gratified to know that we have produced and contributed to hundreds of MFA and BFA studio arts graduates that each in their own way has given deeply to others while continuing to deepen their resolve to their unique voices as creative artists in our Houston Community.
M-AAA Impact Fact
Since 1972, Mid-America Arts Alliance has worked with more than 47,000 artists across the state of Texas. Collins, featured here, was one of 210 artists who were awarded $434,855 in Fellowship grants from M-AAA and the National Endowment for the Arts.
Image credit: Michael Roqué Collins, Temple of Virtue, 2020–21, from the series Transmission of Light; oil on linen, 60 x 72 inches; Courtesy of the artist and LewAllen Galleries, Santa Fe, NM