October 7, 2022
50 Stories | The Language of Hope and Courage at Oklahoma Children's Hospital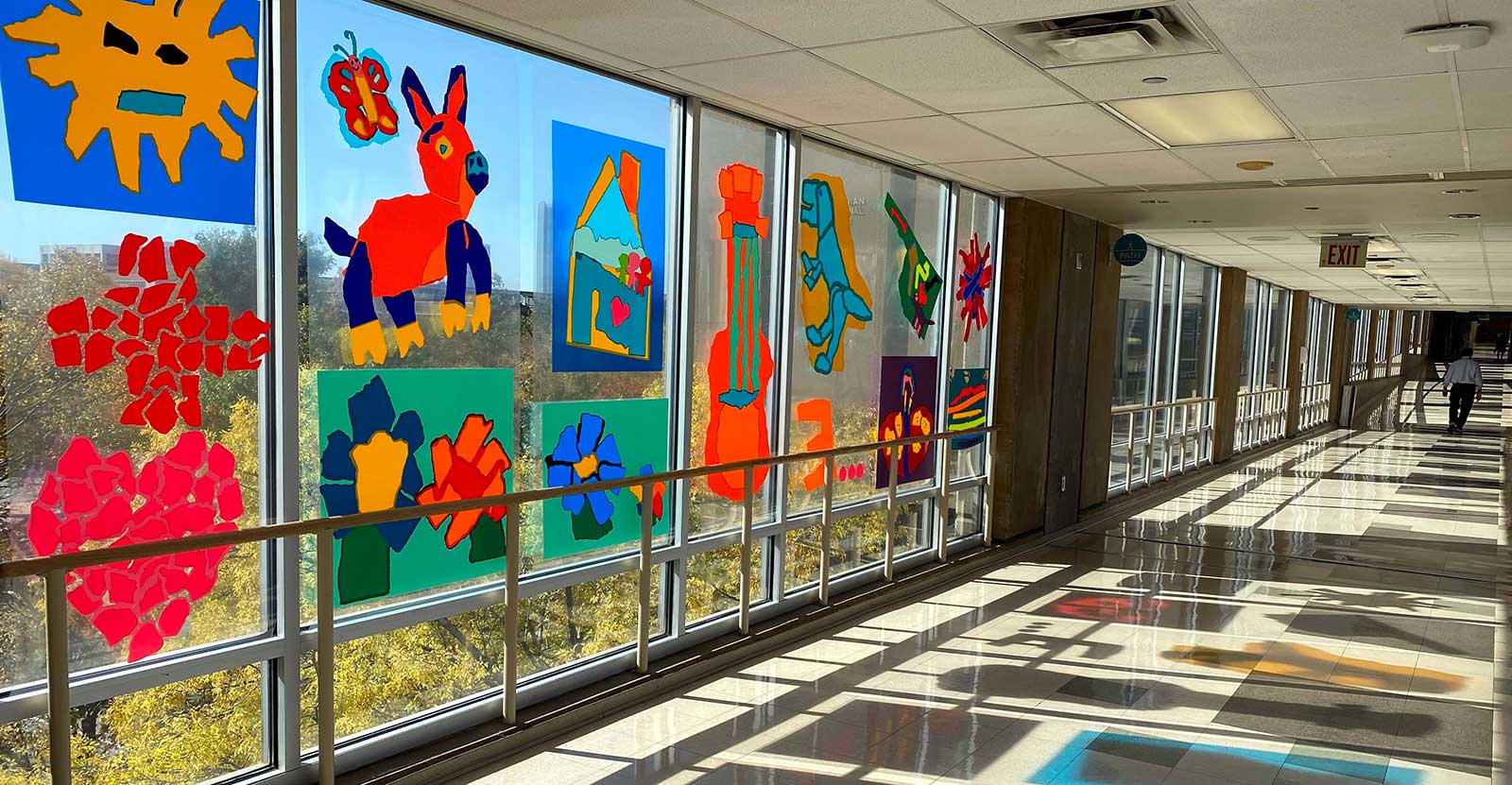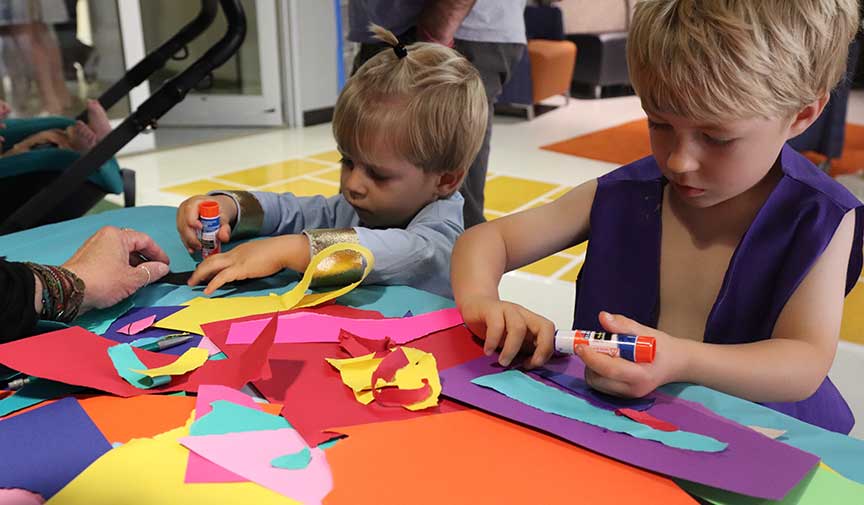 Mid-America Arts Alliance (M-AAA) is celebrating its 50th year of ensuring more art for more people—strengthening and supporting artists, cultural organizations, and communities throughout our region and beyond. Founded in 1972, M-AAA has awarded grants to artists and arts organizations, helped to bring cultural programs to communities urban and rural, and empowered creatives throughout Arkansas, Kansas, Missouri, Nebraska, Oklahoma, and Texas; across the nation; and internationally. As part of its anniversary recognition, M-AAA is pleased to share 50 Stories | 50 Years, a weekly series of stories and statements submitted by colleagues, program participants, and others that speak to M-AAA's profound impact on their lives, creativity, communities, and the region.
M-AAA Artistic Innovation grantee Ginna Dowling is an installation artist, printmaker, and storyteller who collaborated with staff, patients, and families at the Oklahoma Children's Hospital in Oklahoma City in FY2020 to create site-specific story installations. Her reflection, "The Language of Hope and Courage at the Oklahoma Children's Hospital," testifies to the "life changing" impact of M-AAA grant funding on her work, which empowered children and brought joy and comfort to them and their families:
Think about the power of children's art and a child's creative expression of hope.
Now, imagine children hospitalized with life-threatening illnesses, like cancer, and the power of their artistic expressions of hope and strength.
Consider the impact and importance the process of creating visual expressions of hope and a healthy identity can have to the inherent well-being of these children. Can it help empower them and serve to maintain a sense of worth and courage? Can it improve the child's outlook in their battle for life and affect their ability to combat disease? Can it reinforce the power of art and creativity?
The answer to all of these questions is a resounding YES, as was evident in the M-AAA Artistic Innovations installation project that preserved the individual identity and told stories of hospitalized children through self-representational identity symbols created by them, their families, and the medical teams that form the hospital community.
Long-lasting legacies will continue to benefit and grow from the project with the Children's Hospital, which kicked-off a capital campaign that successfully established a permanent Art Therapy Program and a permanent Artist-In-Residency program. Additionally, permanent installation elements can still be seen throughout the hospital.
The project was extraordinarily successful, despite COVID. Although outreach was curtailed by six months and some of the installation was forced to become outdoor accessible, the grant served 417+ creative participants (those that could be counted). Before the final public and street accessible outdoor portion of the premier presentation was unveiled, there were 9,614+ documented (with many more uncountable) viewers. The number of viewers is now years beyond this.
The project's success and the inherent power of creativity within our community in personal terms was incredible. "For the patients, these pieces of art have indicated triumph over tragedy, perseverance, or courage despite ongoing difficult circumstances. I have seen [the] effectiveness of the project in both group and individual settings, wherein patients can practice the ability to cope through introspection and artistic freedom," said a participating Child Life Specialist.
The impact of the project on me has been life changing. Professionally, emotionally, personally, in my critical thinking, and artistic creativity, it will impact my entire life and career. Working with these children, I found new heroes. They do not let their illnesses define them, as was evident in their remarkable use of creativity as a coping mechanism, distraction, sense of humor, emotional release, [experimentation], and form of communication. Their ability to grasp the concept of creating symbols, in such a universal process as tearing and gluing paper, which literally reflects, identifies, and relates to them, is nothing short of unbelievable. I worked with patients, from toddlers to young adults, and many with physical issues that literally made it difficult or almost impossible to perform the simple act of tearing paper. To watch their triumph over this adversity was powerful. This was an incredibly emotional experience.  Some of the patients did not live beyond the end of the project, and some will go on to be our future. I am honored to have had the experience to give the emotional and creative outlet that helped them symbolically define who they are and how they envision the definition of creativity. I am their story keeper.
Thank you, Mid-America Arts Alliance, for bringing the story of hope and courage, joy and triumph, and even immortality, to our community.