September 22, 2022
50 Stories | Transforming a Houston Art Museum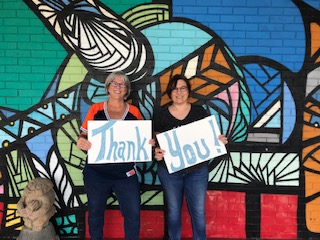 Mid-America Arts Alliance (M-AAA) is celebrating its 50th year of ensuring more art for more people—strengthening and supporting artists, cultural organizations, and communities throughout our region and beyond. Founded in 1972, M-AAA has awarded grants to artists and arts organizations, helped to bring cultural programs to communities urban and rural, and empowered creatives throughout Arkansas, Kansas, Missouri, Nebraska, Oklahoma, and Texas; across the nation; and internationally. As part of its anniversary recognition, M-AAA is pleased to share 50 Stories | 50 Years, a weekly series of stories and statements submitted by colleagues, program participants, and others that speak to M-AAA's profound impact on their lives, creativity, communities, and the region.
Leanne Newton of Houston, Texas, shares how collaborating with M-AAA transformed the Altharetta Yeargin Art Museum from "a place that hosted the same field trip every year along with a few crafting Saturdays," into "an evolving, respected art destination in Houston."
M-AAA: Tell us about your organization and its role in the arts.
LN: Altharetta Yeargin Art Museum (AYAM) is an ethnographic museum located within the Spring Branch Independent School District. It serves primarily the families of SBISD in West Houston, but over the past few years, with the help of M-AAA, AYAM is now recognized throughout Houston, and the collection rivals that of the larger, well-known Houston museums. AYAM was founded by the district's first art teacher, who traveled the world with her husband, a professional photographer. The museum boasts a collection of tribal African works of art, an extensive collection of Pre-Columbian figures, and a multitude of other artifacts representing cultures from all continents. In addition to public events, AYAM hosts field trips for students each year. For many of these students, AYAM is their first and possibly only exposure to a museum of its kind, so the impact must be a lasting one.
M-AAA: How did Mid-America Arts Alliance change the trajectory of your work or your organization?
LN: The impact of M-AAA cannot be overstated! I had worked at AYAM for only a month or so when we got a call from M-AAA about meeting to talk about "capacity building." We had no idea what that meant, but knew we could not build any more space at the museum so it should be a short meeting and we could get on with our day of planning craft projects.  Well … Carla [Patterson from M-AAA] came, and after an hour or so of listening to her tell us how important we were and what a special place this was and all the other beautiful adjectives she uses to inspire action, we were sold! Not only did AYAM change forever but a new friendship was formed that will last a lifetime. (This is where we all start crying).
M-AAA gave us a framework and plan that didn't exist before. M-AAA helped us learn what board structure was supposed to be, gave us the courage to think bigger and to be bold in how we wanted AYAM to be viewed. The idea sharing with other small art entities in Houston was invaluable and helped us feel even more a part of the Houston art community. The biggest thing we took on that had not been done at AYAM before, was hosting a traveling exhibition from M-AAA. The Power of Children, an exhibit out of the Children's Museum of Indianapolis, focused on the lives of three children— Anne Frank, Ruby Bridges, and Ryan White—and the impact they had on society. Before the twenty-five giant crates arrived and after many discussions with Carla, we had a plan for marketing the exhibition to all of Houston. We reached out to both print and news media and had an article printed in the Houston Chronicle along with local news coverage. We had visitors all the way from The Woodlands to Clearlake who would never have had a reason to come to AYAM. I could go on and on about the impact this exhibit had on us personally and as a community, but I'll just say our credibility and influence in our own district and community was transformed. We would have never done anything like this without the influence and encouragement of M-AAA. AYAM went on to host art exhibitions from some of Houston's most elite artists, had art installations and a mural covering the façade of the museum, and AYAM continues to host other M-AAA exhibitions. The collaboration with M-AAA changed the trajectory of AYAM from a place that hosted the same field trip every year along with a few crafting Saturdays, into an evolving respected art destination in Houston.
Image: AYAM's Kathy Goss with the late Lucille Bridges, Ruby's mother