October 19, 2023
Artist Leadership Fellows Showcase Impact on October 30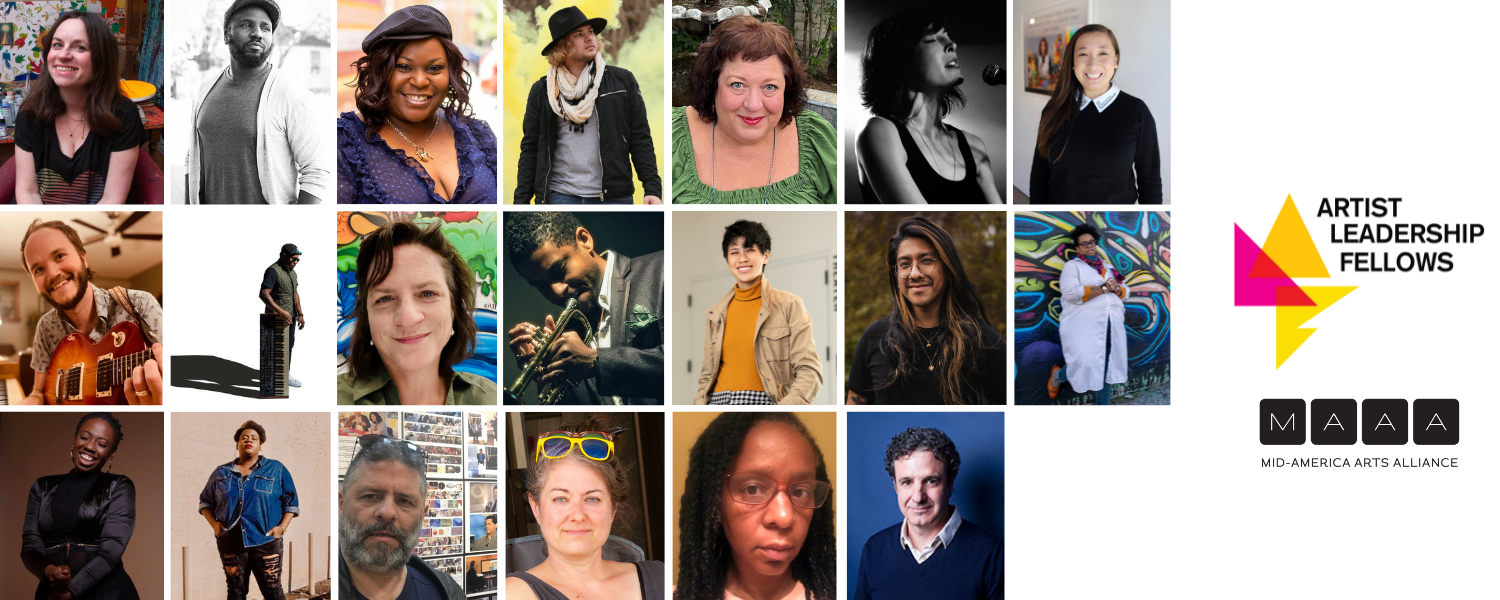 Building Arts Communities From the Ground Up: Artist Leadership Fellows Showcase Impact on October 30
The third cohort of the Artist Leadership Fellows (ALF), a program of Mid-America Arts Alliance (M-AAA), is excited to present their work during a virtual public event scheduled for October 30, 2023, from 4:30 to 6:30 p.m. This dynamic program is driven by a deep belief in the transformative power of artists supporting one another, shaping established artists into future leaders in the arts. ALF's primary goal is to nurture artists within communities and thereby foster a positive impact on both the local arts scenes and the broader economy.
Eepi Chaad, M-AAA professional development program officer and past ALF senior artist peer facilitator, states, "ALF brings practicing artists of all creative walks of life together from across the M-AAA six-state region and beyond to connect, share, and grow in community with one another. Magical things happen when artists have the space to come together and support each other." Chaad emphasizes that empowering artists who actively engage with their communities has a ripple effect that enhances the vitality of the entire region. These fellows ultimately become mentors, passing on their knowledge and empowering more artists with each successive cohort.
During the program, artists deepen their knowledge, hone their skills, and strengthen their professional practices in a supportive small group environment under the guidance of experienced peer facilitators from M-AAA. Topics covered include goal-setting, financial strategies, marketing, contracts, legal business structures, time management, and self-care. Each participating artist receives an honorarium of $500.
Over the course of eight weeks, the artist fellows met virtually from locations across the heartland, collaborating with senior peer facilitators to explore and develop their creative practices and learn how to guide other artists through their creative and professional journeys. 
The public is invited to participate in the culminating virtual "WorkShare" event on Monday, October 30, 2023, from 4:30 p.m. to 6:30 p.m. Central Daylight Time. During this event, the artist fellows will deliver brief virtual presentations about their work and creative practices. To attend, guests are required to register in advance, and a virtual meeting link will be emailed upon registration.
The current cohort of artist fellows includes:
Raie Crawford (Houston, TX) 
Pablo Diaz Carballo (Saint Marys, KS) 
Maximilliano Dominguez (Little Rock, AR)
Brian Ellison (Houston, TX) 
Pablo Guerra-Monje (Fort Smith, AR) 
Elizabeth G. Howard ("Zed") (Lee Summit, MO) 
Letitia Huckaby (Benbrook, TX) 
Cheryl "CandySoul" Humphrey (North Little Rock, AR) 
Kimi Kitada (Kansas City, MO) 
Amy Kligman (Kansas City, MO) 
Chris Long (North Little Rock, AR) 
Naima Lowe (Tulsa, OK)
Colin McLaughlin (St. Louis, MO)
Eddie Moore (Riverside, MO)
Julia Othmer (Parkville, MO) 
Tracy (T-Spirit) Stanton (St. Louis, MO) 
Kasimu Taylor (St. Louis, MO) 
Sara Vanderbeek (Austin, TX) 
Hope-Lian Vinson (Kansas City, MO) 
Christine West (Albuquerque, NM) 
The senior artist peer facilitators leading the cohort are Nick Carswell (Lawrence, KS, Chris Dahlquist (Kansas City, MO), José Faus (Kansas City, MO), Cory Imig (Kansas City, MO), and Kholoud Sawaf (Fayetteville, AR).
M-AAA's Artist Leadership Fellow program selects artists, nominated by community partner organizations, from a wide range of disciplines and perspectives. 
Graduates of the program depart with a cross-discipline, geographically diverse network of peer artists, a strategic framework to navigate enduring artistic careers, and the tools to serve as facilitators and mentors in their respective home communities across M-AAA's region and beyond. 
M-AAA has plans to continue hosting additional cohorts in 2024.