July 31, 2019
Artistic Innovations: FY19 Projects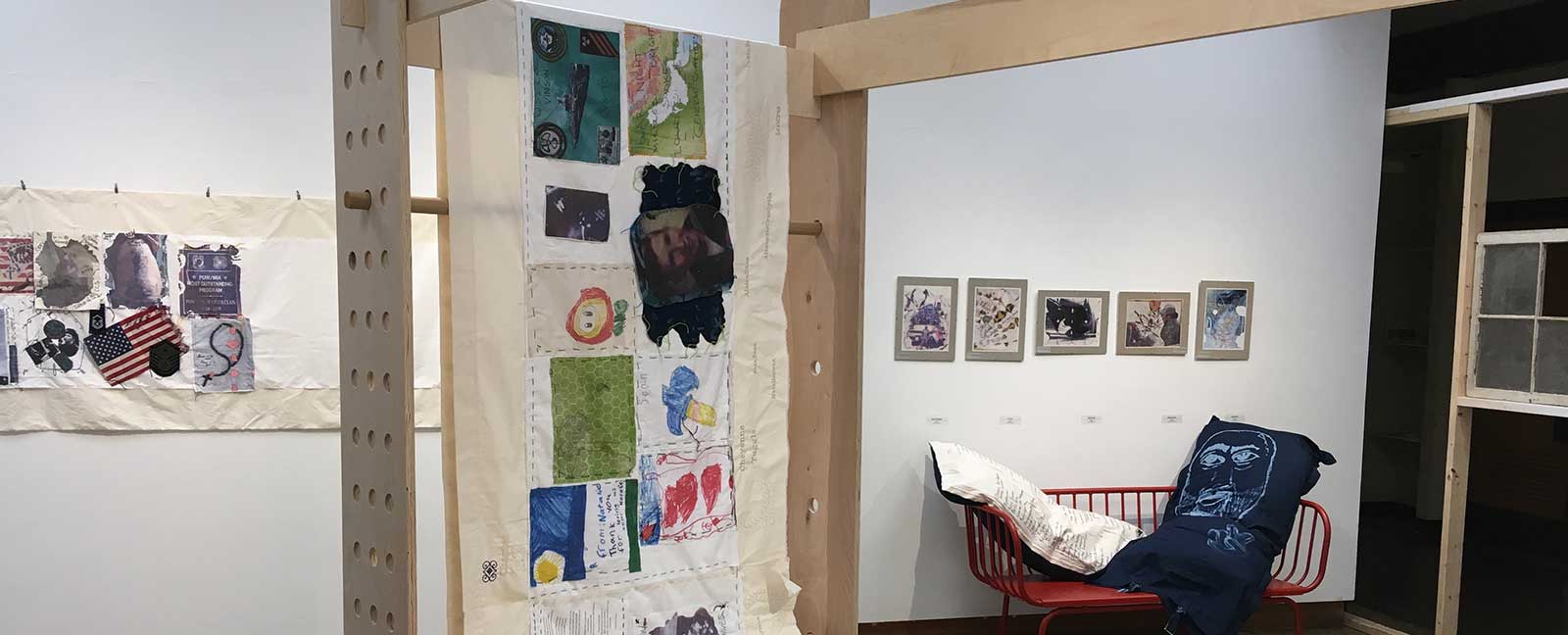 Seventeen projects are awarded $180,626 in grants
Artistic Innovations grants support the creation of innovative new work by artists working in M-AAA's region of Arkansas, Kansas, Missouri, Nebraska, Oklahoma, and Texas. With generous support from the National Endowment for the Arts, M-AAA distributes grants of up to $15,000 to underwrite the direct expenses related to the art-making process and the public premiere of work.
FY19 saw a variety of disciplines with projects from individual artists and arts organizations alike. We are proud to support the region's most exciting new work. Kansas artist Geraldine Craig received a grant for The Earl Project, which engaged veterans and their families in the creation of artworks using fabric "burn-out" techniques that are conceived as emblematic of the psychic burn-out that many soldiers experience (see image detail above). She shared the following feedback from a veteran artist teacher who worked on the project:
"Having this openness to talk helps," said Van Vogelpoel, now an art teacher at Rock Creek High School in St. George, Kansas. "Even if you don't want to admit it, you don't want to go there. Nobody wants to ask for help. We want to be that strong individual. When you finally do ask for help and you make that first step, the rest of it is pretty easy to keep going forward."
"Having an active community does help you open up a little bit more," Van Vogelpoel added. "It doesn't make you seem like you're alone."
Read more about The Earl Project, and all the other awarded projects, below.
Dance
Forklift Danceworks (Austin, TX)
My Park, My Pool, My City ($15,000)
My Park, My Pool, My City is part of a three-year artistic residency with the City of Austin Parks & Recreation Department (PARD) Aquatics Division and select East Austin neighborhoods, designed upon the invitation of PARD leadership, who specifically requested that Forklift create new public performances and use arts-based engagement to help address the crisis stemming from Austin's failing Aquatics infrastructure. Utilizing Forklift's artistic practice, My Park, My Pool, My City includes co-creation of community-based performances at different East Austin pools, accompanied by town hall gatherings and community workshops before and after summer performances to further conversations about Austin's Aquatics system, supporting greater city-wide understanding of the issues facing East Austin pools and the work required to repair and maintain them. This is the third Artistic Innovations grant for Forklift Danceworks.
Regina Klenjoski Dance Company (Wichita, KS)
Far From Home ($15,000)
Regina Klenjoski Dance Company (RKDC) created a new dance theater work, Far From Home, that shines a light on the choices immigrants make when coming to a new land and the unquantifiable cost of chasing the American Dream. Based on her parents' journey from a small village in Macedonia, Kansas choreographer Regina Klenjoski, along with Wichita filmmaker Thomas Phan and Oklahoma City based musician and composer Nikola Gjorcevski, have created a multi-media, multi-disciplinary production that premiered at The Orpheum Theater in Wichita, KS in April 2019.
Film
Crystal Z. Campbell (Tulsa, OK)
The Black Utopia Project ($15,000)
The Black Utopia Project is an archive, publication, and traveling film with corresponding workshop modules centered on the remaining thirteen historically Black towns of Oklahoma. Post-Civil War, what would become Oklahoma grew to have the largest number of all-black towns in the United States. Following in Zora Neale Hurston's footsteps, this project makes a record of these communities using text and film, documenting the real and imagined record of community survival while having an ongoing, imaginative public conversation about the notion of a Black Utopia.
Circle Cinema Foundation (Tulsa, OK)
Circle Cinema's 90th Birthday—A Week-Long Festival of Film, Art and Culture ($5,000)
This week-long festival included a variety of activities for audiences to enjoy and experience, including classic silent films with traditional pipe organ accompaniment to modern versions of experimental music and film projects. Circle Cinema Foundation uses film to foster understanding and appreciation of the diversity of the human experience and create community among the viewers in the restored historic Circle Cinema.
Jamil Jaser (Tahlequah, OK)
Then and now ($2,923)
Then and now records and creates 3D models of twenty-one historic and cultural sites in northeastern Oklahoma, including The Cherokee Nation's historical archives, The Oklahoma Historical Society, The Cherokee Historical Society, Northeastern State University's historical archives, as well as the current site of the Second Female Cherokee Seminary, now known as Seminary Hall. A majority of the sites were recorded via photogrammetry, the use of photographs of a subject from multiple points of view to create digital 3D data. This data will be turned into 3D models for exhibition.
Music
Lincoln Friends of Chamber Music (Lincoln, NE)
Time and the River ($15,000)
This project used visual image output from the Platte Basin Timelapse project (PBT) as the basis for the creation and performance of a new chamber music composition/visual image work. The PBT has more than sixty time-lapse camera systems placed throughout the 90,000 square-mile basin, from its headwaters along the Continental Divide in the Colorado Rockies to the river's confluence with the Missouri River on Nebraska's eastern border. Like chapters in a book, each time-lapse camera tells one part of the story of that proverbial drop of water as it makes a journey of roughly 900 river miles through the heart of North America. Time and the River is a composition of chamber music and visual imagery.
Theater
Prison Performing Arts (St. Louis, MO)
Prison Performing Arts Alumni Company New Play Development ($15,000)
The St. Louis Public Library Central Branch hosted a new Prison Performing Arts production, "Family Sentence," by PPA's Alumni Theatre Company—a forty-five-minute one act play designed for family audiences about incarcerated parents and the impact of their prison time on their children and caregivers waiting at home. This show then toured to up to five other St. Louis Library city branches.
Prison Story Project (Fayetteville, AR)
On The Row: Stories From Arkansas' Death Row ($13,500)
The script for the staged reading On The Row is taken from the writing of eleven men on death row that the Prison Story Project met with over six months. Six actors read the work of the eleven men that participated in the creative writing/storytelling classes. There were two separate tours of On The Row, consisting of staged readings and an art exhibit. Tour #1 included performances at high schools and public performance in the evening in Little Rock, Pine Bluff, Jonesboro, and West Memphis, AR. Tour #2 included evening performances to cities in four of the states in the Mid-America Arts Alliance region: Kansas City, MO; Wichita, KS; Oklahoma City, OK; and Dallas, TX. This is the third Artistic Innovations grant for the Prison Story Project.
Shelterbelt Theatre (Omaha, NE)
The Dairy Maid-Right Project ($8,000)
The Dairy Maid-Right is both a world premiere of an already lauded script by nationally renowned Nebraska playwright Ellen Struve and an experiment in up-to-the-minute theatrical response. The play is set in the summer of 2016 and asks what happens when two rural Nebraska teens of different cultural backgrounds encounter a child migrant and must confront duty to family, the meaning of citizenship, and the challenge of compassion.
Visual
Geraldine Craig (Manhattan, KS)
The Earl Project ($15,000)
(pictured above)
The Earl Project is the engagement of veterans and soldiers in creating new, original works of visual art through the lens of textiles, with mending and stitching both metaphor and realization of healing in physical manifestation. The culminating public presentation was two exhibitions of the work at the Manhattan Art Center and Mingenback Art Gallery in Lindsborg, KS. The soldiers will be taught simple but evocative techniques to create images and stories with fabric "burn-out" techniques that are conceived as emblematic of the psychic burn-out that many soldiers experience. The project is named for Earl Molzen, a PTSD survivor of World War II that was an inspiration to his family for his kindness, creative interventions, and "fixes" that he made over sixty years as part of life on his parents' central Kansas dairy farm.
Jamie Horter (Lyons, NE)
Senior Spotlight ($7,690)
Senior Spotlight impacts the communities of Decatur (pop. 481) and Lyons (pop. 851), located in northeast Nebraska. This project creates a publicly accessible archive of portraits and narratives about the lives of local community elders as created by senior students at Lyons-Decatur Northeast School. Final products are a book publication and digital archive. This project is not only a supplementary to the high school government class, but is also a response to community requests for historic and cultural preservation, making visible two demographics in the communities which are often at the periphery of society: youth and elders.
Calder Kamin (Austin, TX)
Dream Tomorrow, Today ($15,000)
Audiences are welcomed into the exhibition Dream Tomorrow, Today by a 100-foot installation of The Time Machine Tunnel at the DoSeum in San Antonio, TX. This part of the exhibition features possible outcomes for our future based on our choices. The words "Dream Tomorrow, Today" hang above the "time machine" gate which leads to "Trash Town," a landfill colonized by various trash-loving animals built out of a diverse collage of plastic remnants. The exhibition continues on to three other rooms where students will design a future sustainable city, learn about careers in innovation, and work together in a design lab. This is Kamin's second Artistic Innovations grant.
Eloa Jane Pereira (Fayetteville, AR)
Neighbors and Neighborhood ($9,000)
Neighbors and Neighborhood is a collection of twelve works that depict life in Beav-O-Rama Park in the outskirts of Fayetteville, Arkansas. An unincorporated rural community, the modest site is located on the banks of the White River and at its entrance a sign reads "Where Neighbors Are Friends." We live in a fragmented and divisive world, increasingly separated by differences of opinion, race, and economic status. Non-language forms of integration and communication are becoming ever more necessary. The artist's objective is to inspire people to both initiate and be open to experiencing the same type of inclusiveness that the artist experienced at Beav-O-Rama.
The Luminary (St. Louis, MO)
Counterpublic: Public Art Triennial ($10,000)
Counterpublic is a public art triennial exhibition that activates area storefronts, parks, and gathering spaces with artist commissions that embed directly within the everyday life of the community. Centered around Cherokee Street in St. Louis, Counterpublic commissions area artists to create ambitious new work in the barbershops, bakeries, pocket parks, rec centers, and taquerias that anchor the neighborhood and act as informal cultural spaces for the diverse residents living in the area. Working collaboratively with these spaces and other community stakeholders, The Luminary commissioned no fewer than six artists to create responsive, engaging new works that address timely issues important to the community.
Traveling Arts Fiesta (Russellville, AR)
Our Front Porch ($7,363)
The project is a traveling arts and cultural immersion experience. There is a porch with rocking chairs that travels with the exhibit—the artists are literally building platforms for a convergence of shared experiences through arts and culture. The art exhibit includes the works of six visual artists from across Arkansas who specialize in different media: sculptures from earth's elements, landscape oil paintings, acrylic human landscapes, weavings that beg to be touched, and video installments.
Jarica Walsh (Norman, OK)
Symbiotic ($7,150)
Symbiotic encourages innovative artwork by both experienced artists and young, emerging artists. Symbiotic is artist-centered and encourages ambitious projects through mentorship. The relationship between both the team of artists and the curator enables the development and adaptation of the original concept, adding potential for greater impact from the further developed artwork. Symbiotic includes an exhibition at Fowler VW dealership in Norman, OK. The Fowler VW dealership was chosen because they maintain a gallery space in their dealership and have a consistent focus on cultural development in the community. It is important for the Symbiotic artworks to have a community connection and viewing opportunity outside a traditional gallery space.
Cheryl Wassenaar (St. Louis, MO)
The Cabinet of Ordinary Affairs ($5,000)
The Cabinet of Ordinary Affairs is an immersive, site-specific visual installation that explores the inner voices of the mind and their distinct, authoritative manner of telling us what to do. The premiere presentation was an exhibition installed in the Des Lee Gallery in downtown St. Louis in September 2018. It was a multi-media installation that merges sculpture, sound, video, text, and design. The installation is based on a series of Stephanie Schlaifer's poems (one of the collaborating artists) that imagines the brain as a collection of governing bodies, operating as a bureaucratic institution.