August 9, 2023
Discover the Heartland's Jazz Treasures with Jazz Road

Calling all jazz enthusiasts! Let the rhythms of Jazz Road guide your soul.
Get ready to sway, tap, and dance your heart out as Jazz Road, the national grant program managed by South Arts, brings you the hottest jazz talent from coast to coast.
We've got the scoop on the sizzling Jazz Road events hitting our region this year. Mark your calendars with the events below and dive into a world of soulful melodies, enchanting rhythms, and mesmerizing performances happening across the heartland. It's a groovin' good time you won't want to miss.
And that's not all! Jazz Road isn't just about the music—it's about lifting jazz artists to new heights. With grants of up to $40,000, this program empowers artists to embark on self-defined residency activities, exploring creativity, engaging with communities, and celebrating their lifework in jazz. 
A huge round of applause for the 20 extraordinary jazz artists recently awarded the prestigious Jazz Road Creative Residencies grants! Scroll down to read about the residencies in our region.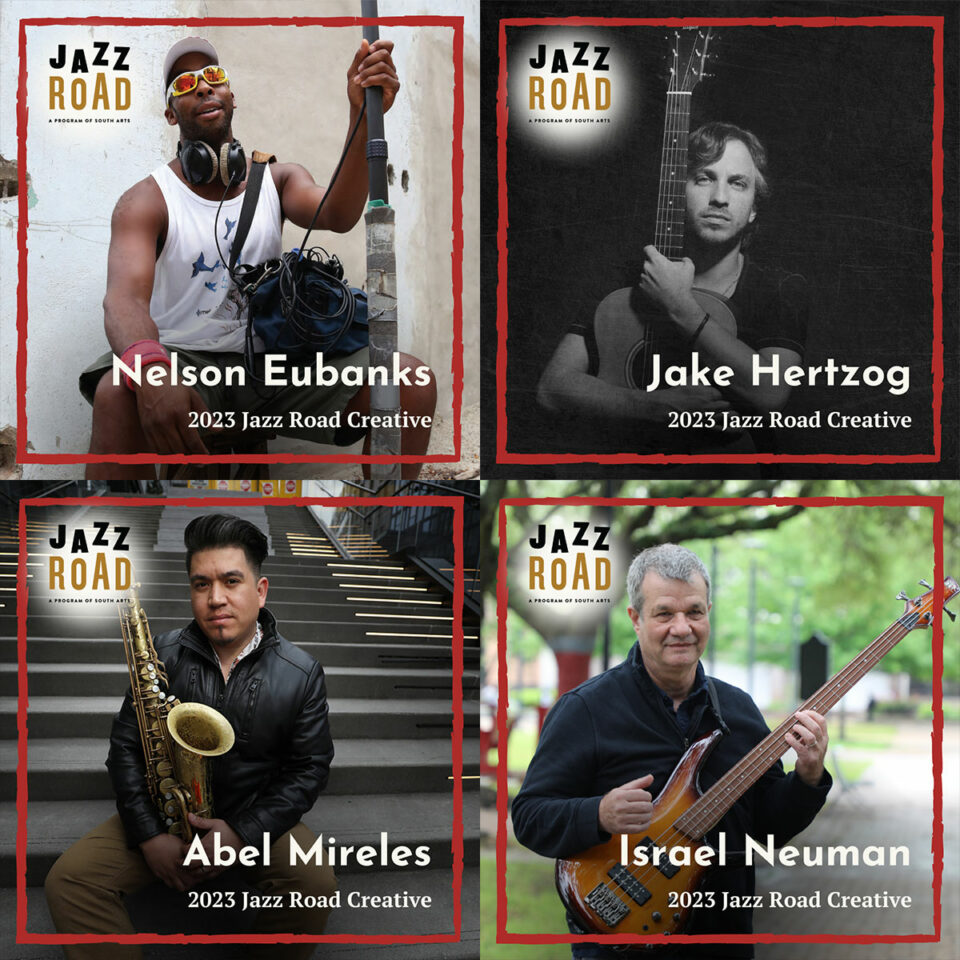 Join us in cheering on the four Jazz Road Creative Residency artists who call our region home:
Curious to know more about these awe-inspiring jazz sensations? Learn all about these awarded artists and their remarkable contributions to the jazz scene! 
Gather your jazz-loving friends and let Jazz Road take you on a sonic adventure like no other.
Catch these Jazz Road Tour and Creative Residency winners that are occurring and touring in the M-AAA region.
Jazz Road Tours
Not in these locations? Use the South Arts national interactive map to find a Jazz Road event near you!
Creative Residency Winners – Events in our Region
Abel Mireles | El Paso, Texas – This residency will focus on the exploration of the fusion of Mexican Folkloric music and jazz, through the documentation of audio, video, and a documentary style film. The investigation of the history of both styles will be conducted through, interviews, transcription, onsite visit to local museums, music arranging, rehearsing, recording, and performing. This will be in collaboration with The Jazz Exchange, a local non-profit organization as the host. No specific dates have been set for this project.
Bryan Carter | Austin, Texas, and New York City – The "Rustin in Renaissance" residency is a multi-day orchestral workshop of a newly composed jazz oratorio by musician Bryan Carter. Produced and hosted by "Bandstand Presents," the intensive will bring together over 40 musicians for the first reading and rehearsals of the piece in Austin, Texas from January 31- February 3, 2024. The residency will culminate in an open dress rehearsal for members of the community ahead of the piece's premiere at Jazz at Lincoln Center in New York City.
Israel Neuman | Houston, Texas –  Four-week residency scheduled throughout the period between July 15 and September 15, 2023. Partnering with the Texas Southern University School of Communication, Dr. Neuman will use its production facilities to produce original music combining contemporary jazz, hip hop, interactive electronics, and folk music. Dr Neuman will collaborate with artists, musicians from TSU and the Houston Third Ward community. Internship positions will be offered to TSU students. The music will be publicly presented on the TSU campus.
Jake Hertzog | Fayetteville and Bentonville, Arkansas – I am proposing a Creative Residency hosted by the University of Arkansas partnering with the UARK Festival Jazz Orchestra to create an album of original music for wide release, and a community performance at the UARK Jazz Festival in April 2024. The UARK Festival Jazz Orchestra is a 20-member big band that will be augmented by four string players from the Symphony of Northwest Arkansas for this project. This entire project will be completed in Arkansas.
Can't wait for the show? Listen to the Jazz Road spotify playlist!
Interested in applying to South Arts' Jazz Road program?
Jazz artists from anywhere in the United States can take their music to places it's never been with a grant from Jazz Road, a national initiative from South Arts. There are a few grant possibilities to take your music to the next level.
Jazz Road Tours

: Jazz Road Tours offer grants of up to $15,000 to develop tours into communities across the country. Applications open now. Deadline: September 19, 2023

Jazz Road Creative Residencies

: Grants of $5,000-$40,000 available to support a residency you propose & develop for artistic creation or connecting with audiences. Next deadline: Grantees were just announced. Application information is coming soon.

Call for Presenters and Venues:

Are you interested in being contacted by artists about potential Jazz Road engagements? Jazz Road relies on successful connections between artists and the venues/presenters/communities which will host them.
South Arts' national Jazz Road initiative is coordinated in partnership with the five fellow regional arts organizations: Arts Midwest, Mid-America Arts Alliance, Mid Atlantic Arts, New England Foundation for the Arts, and the Western States Arts Federation. Through Jazz Road, South Arts provides funds, tools, and resources for artists to explore their work through tours and residencies. This program is funded by the Doris Duke Foundation with additional support from the Mellon Foundation.
Learn more about Jazz Road and apply.
Header photography: Photo courtesy of Jazz Road Creative Residency winner Nelson Eubanks.