January 13, 2022
February First Friday: Artist Aaron Badham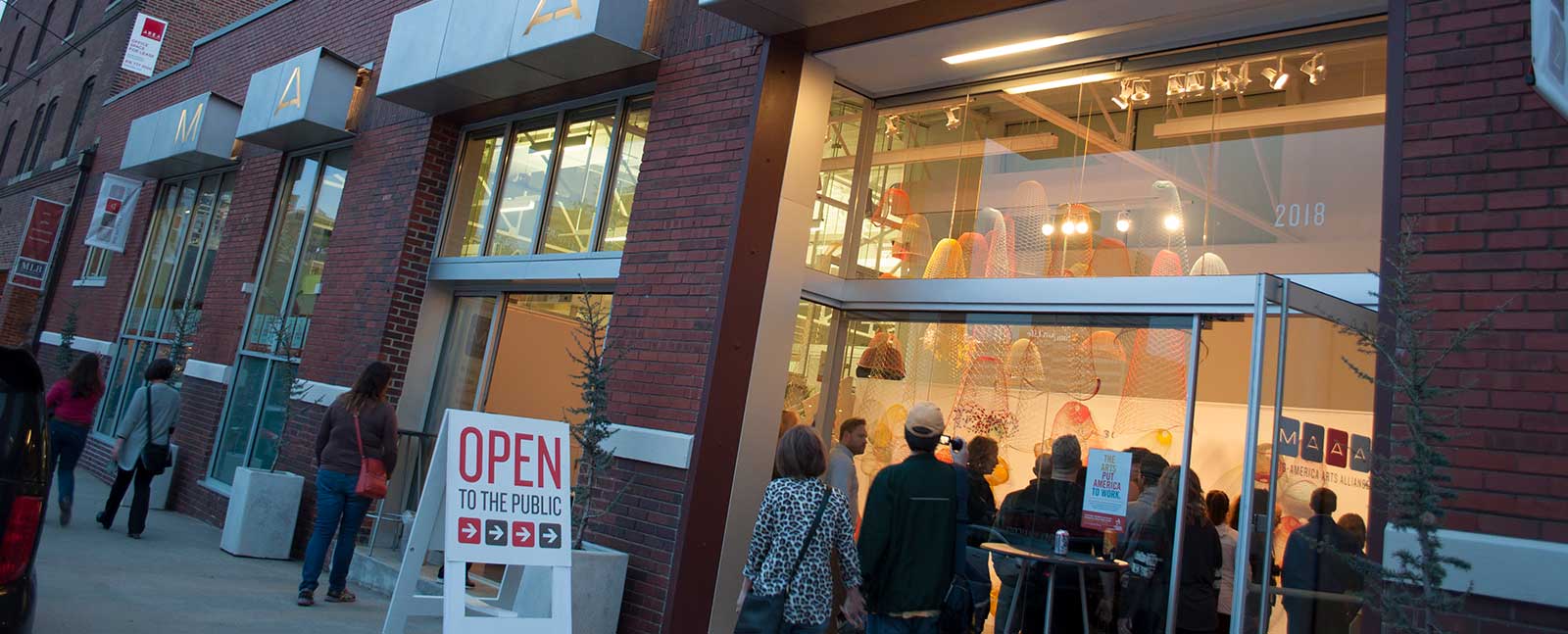 Nebraska Artist Aaron Badham's Sculptural Works Premiere for February First Friday
IF, THEN, NOW & BECAUSE by Nebraska artist Aaron Badham will be on view at Mid-America Arts Alliance from February 4–March 11, 2022. The works will be visible at all times from the sidewalk and street, while the space remains closed to the public out of an abundance of caution.
IF, THEN, NOW & BECAUSE is a grouping of colorful, inflated steel sculptural works that may be seen as abstractions of ubiquitous objects—implements, parts and playthings—influenced most recently through the lens of parenthood.
While these works can be seen as "playful" Badham's fabrication process also implants a sense of vulnerability, both in his practice and resulting form, whereby the resulting volumes subvert their material and adopt a new kind of relatability that builds a dialog between maker, material, and object.
Artist Statement
As a fabricator, I feel an intense obligation toward the physical realities, objects and systems in front of me. This obligation engages me in the pursuit of manual self-reliance and occupation. As a new father, I have observed the developmental impact of objective engagement through a new lens – solidifying a reverence for the modest, but potent nature of our interactions with the built and natural environment.
Retaining a sense of functionality helps my work toe a line between the familiar and the ambiguous.
"IF", "THEN", "NOW" and "BECAUSE" instigate notions of causality, risk, interpretation, response, process, inquiry, fluidity and evolution. These ideas are not meant to define my work wholly, but represent drivers within my creative practice and approach to making.
–Aaron Badham
About the Artist
Aaron Badham lives and works in Hastings, Nebraska, where he is an Assistant Professor of Art at Hastings College. Originally from Washington State, he completed his BA in Studio Art–Sculpture at the University of Puget Sound in Tacoma. In 2014, he received an MFA from the University of Massachusetts Dartmouth. In the same year, he was awarded the Outstanding Student Achievement in Contemporary Sculpture Award from the International Sculpture Center. Additionally, in 2012 he was selected as one of sixteen emerging artists to exhibit at the Artist Project: Torontoin Ontario. He has participated in exhibitions across the United States and installed permanent public work in Grand Island, Nebraska.