November 10, 2023
Supporting Our Veterans with the Lied Center of Kansas, the Modern Warrior Experience, and Creative Forces Community Engagement Grantss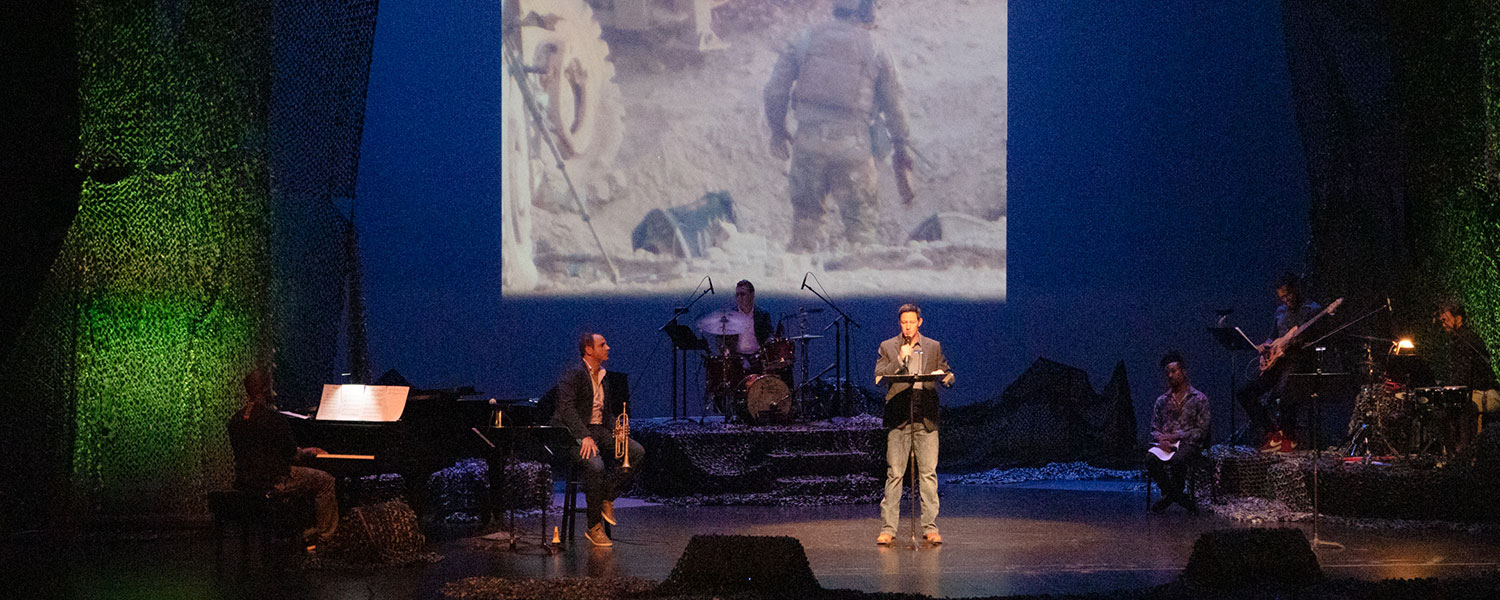 • By Becky Brown •
Some stories hurt too much to tell. No one knows this better than veterans returning home. 
People who've served across the globe often return stateside to depression, anxiety, and a sense they don't belong. However, some opportunities—like sharing their stories with an auditorium of people in Kansas—can help with understanding and healing.
But more on that in a moment.
Jaymes Poling spent eight years with the 82nd Airborne Division. After three tours in Afghanistan, the transition to civilian life was challenging. But as he was working through the mental health struggles tied to his experiences, he was introduced to internationally acclaimed trumpeter and composer Dominick Farinacci. Their first conversation lasted seven hours.
"I heard his story and was so taken aback because it broke all my preconceptions of the veteran experience," Dominick says. He recognized that Jaymes didn't embody the stereotype of the damaged hero. In fact, the man and his history were much more nuanced than any quick snapshot could capture.
Dominick continues, "Dealing with the memories of war, the loss of friends, and the isolation a veteran finds when leaving the military, Jaymes began to find through narrative arts and dynamic public speaking that the potential for growth can indeed follow adversity."
The musician and the vet who wouldn't consider himself an artist set out to take this story and give it a platform through the arts. Together, they created an immersive storytelling touring production.
In Modern Warrior LIVE, Jaymes shares his story, which is immersed in a dynamic musical score that features a collection of talented musicians led by Dominick, and an intense multimedia component surrounds the production. The result is an empathy-building expression that breaks down boundaries. 
"It was always a goal of ours to share the story in a way that felt more universal and could be absorbed by more than just the veteran community," Jaymes says. "The music is an extension of my story, and creates a deep emotional connection point with audiences."
Modern Warrior LIVE is a performance and an interactive method of discovery. But it's also a catalyst for meaningful conversations about trauma and mental health.
The Lied Center of Kansas took notice.
"We were really interested [in Modern Warrior] because we're really interested in the depth of engagement," says Anthea Scouffas, education and engagement director at the Lied Center. 
That depth comes not only from the powerful piece of theater and music, but also from the Modern Warrior EXPERIENCE Workshop. When Jaymes, Dominick, and their musicians perform Modern Warrior LIVE, the Modern Warrior EXPERIENCE Workshop engages local veterans in an immersive workshop. The program empowers veterans to share their narratives through the same immersive combination of music and storytelling. The end result is a performance for family and friends. These presentations are also recorded for an archive available to other members of the military community.
Another facet of it all? The Modern Warrior programs create community wherever they go. There's a camaraderie between participants and a greater sense of understanding from audience members. But organizers also ensure that mental health, substance abuse, and veteran resources are available as well. 
If this all sounds like a sizable undertaking, it is. 
What started out as a vet talking to a musician at a bar about misguided communal perceptions of veterans turned out to be so much more.  
All of this is possible thanks in part to a National Endowment for the Arts Creative Forces® Community Engagement grant. The Mid-America Arts Alliance administers this grant on behalf of the National Endowment for the Arts. And it's this funding that brought Modern Warrior LIVE and the Modern Warrior EXPERIENCE Workshop to the Lied Center in Lawrence, Kansas. 
The team at the Lied Center had identified veterans as a group that might benefit from the right outreach opportunity. Modern Warrior LIVE and the Modern Warrior EXPERIENCE Workshop seemed like an ideal fit.
"It's just a powerful piece of theater and music," Anthea says about Modern Warrior LIVE. And in a career of arts engagement and outreach, she's never seen an impact like that of the Modern Warrior EXPERIENCE Workshop
"The performing arts can be amazingly therapeutic. They provide space for people to experience other people's realities, but in a safe confine," Anthea says. "But the most powerful thing isn't the performance; it's the creation of the performance … that's what we try to build in our engagement opportunities."
As a nonprofit performing arts center, the Lied Center wouldn't have been able to partner with the Modern Warrior team without the Creative Forces grant or the grant's follow-up support from M-AAA. The people of Kansas have benefited, as have the artists.
"The Mid-America Arts Alliance—the partnership and all the resources that they bring—is beyond just a simple grant," Dominick says. "This team clearly invests in the communities in a way that can create lasting impact."
To learn more and apply for a Creative Forces Community Engagement Grant, visit maaa.org/CreativeForces.
For more about Creative Forces grant recipients, watch an interview with Dominick Farinacci, Jaymes Poling, and Anthea Scouffas, engagement and education director at Lied Center of Kansas on YouTube.
The Modern Warrior EXPERIENCE Workshop at the Lied Center of Kansas included performances by David Bellis, Matt Hastings, and Shawn Moore (not pictured).
Photography by Elizabeth Stehling Snell.
Becky Brown is a freelance writer who loves to brag about people doing amazing things. When she's not highlighting the accomplishments of artists or small businesses, you can find her with her husband and menagerie of canine overlords.