August 14, 2018
M-AAA Announces $1.66 Million for Engage Houston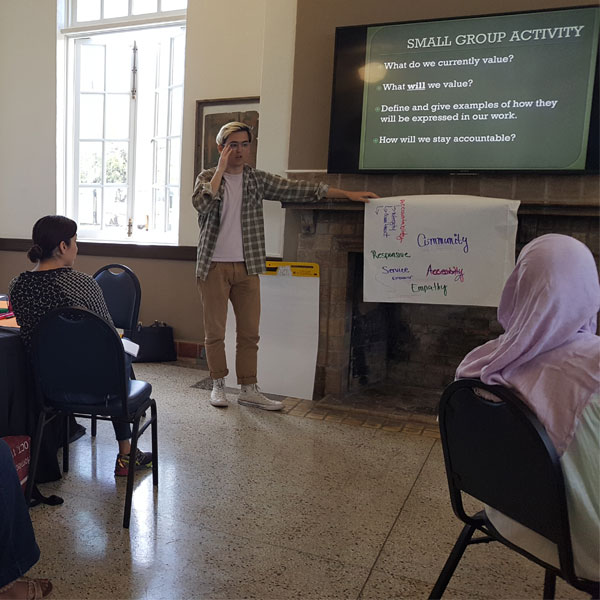 Mid-America Arts Alliance (M-AAA) is pleased to partner with Houston Endowment in support of a third round of Engage Houston, a professional development program serving small and midsize arts and culture organizations.
Engage offers training in governance, finance, fundraising, and community engagement. M-AAA and Houston Endowment created the program together in 2011, after an assessment of the Houston region's arts and culture community showed that leaders of small and midsize entities sought additional knowledge and skills to be more effective administrators.
The new three-year, $1,660,000 grant from Houston Endowment will allow additional organizations to participate in Engage and will enable M-AAA to introduce an adaptive leadership approach for program alumni. Engage helps organizations set aside a scarcity mentality and prioritize uncovering community need, building partnerships, and renewing their commitment to public service.
"Our funding is an investment in our community," said Ann B. Stern, president and CEO of Houston Endowment. "We try to place all of our resources where they will have the greatest impact. That means investing in efforts like Engage that can help build the capacity of not just one but dozens of small and midsize arts organizations that contribute to the vibrancy of our region. We have worked closely with Mid-America Arts Alliance to develop this program, and we share the same goal: to nurture a strong arts ecosystem in Houston."
"We are humbled to partner with Houston Endowment for a third round of Engage, allowing the program to deepen the impact of arts and cultural organizations that are wedded to public service, inspire participants to become active learners, and invigorate a renewed arts and cultural community that is instinctively cooperative," said Todd Stein, president and CEO of Mid-America Arts Alliance. "An office in Houston is an extension of our long collaboration with the outstanding arts and culture organizations of the region and our commitment to their continuing support."