June 8, 2023
Catalyze Awards $250,000 to 25 Central Arkansas Artists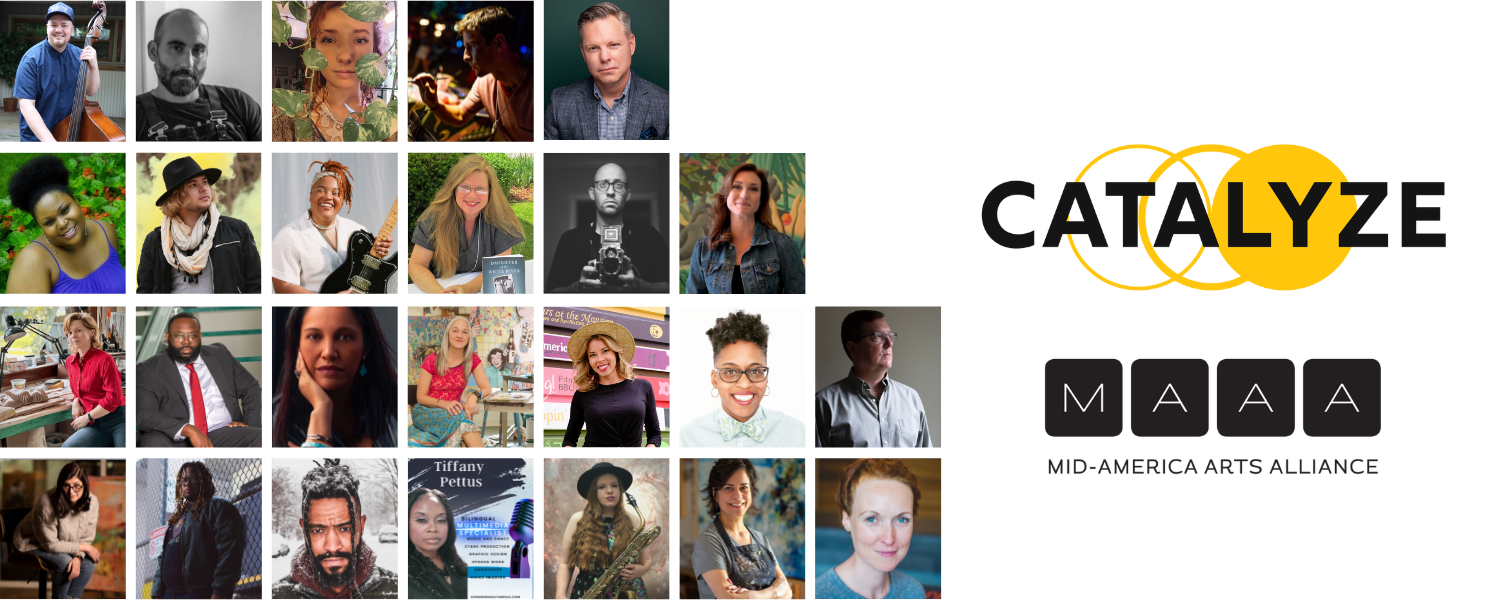 Practice-based funding aims to support the whole artist
Catalyze, a new program of Mid-America Arts Alliance, has announced the first central Arkansas artist cohort to receive grants of $10,000 each as well as professional development training to support their needs as working artists. The goal of the program—which combines money, mentorship, and management—is designed to ignite the careers of the 25 selected individual artists who reside in the eligible central Arkansas counties.
Selected artists include a wide range of disciplines and perspectives: 
M Shelly Conner (Writer / Filmmaker)
Antonio (Bruce) Carpenter (Painter / Craftsman)
Kai Coggin (Poet / Author / Space Holder)
Mitchell Crisp (Interdisciplinary Artist)
Princeton Coleman (Yuni Wa) (Music Producer & DJ)
Virmarie DePoyster (Multidisciplinary Artist)
Aaron Farris (Bluegrass Musician)
Jennifer Gerber (Filmmaker)
Ben Grimes (Theatre Artist)
Ryan Howard (Filmmaker / Photographer / Musician)
Cheryl Humphrey (Singer / Songwriter / Performing Arts Coach)
Chris Long (Music Producer)
Dazzmin Murry (Multi-Hyphenate Artist / Performing Artist / Composer / Multimedia Artist)
Denise Parkinson (Author & Filmmaker)
Yelena Petroukhina (Visual Artist)
Tiffany Pettus (Multimedia Specialist)
Jennifer Perren (Ceramic Artist)
Andy Sarjahani (Documentary Filmmaker)
Derek Slagle (Photographer)
Katherine Strause (Painter)
Jonathan Wright (Printmaker)
Anna Wagner (Ceramic Artist)
Mark Wittig (Photographer)
Veronica Wirges (Music Artist)
Katie Wilson (Visual & Performing Artist)
View the list of Catalyze recipients with biographies and headshots here.
How is Catalyze Different?

Unlike many other grant programs, these practice-based grants are not specific to one art project, but rather to the artist's overall creative practice. Funds can be used for any purpose that supports the continued development of their creative work. From studio rent, to child care, to equipment, the awards aim to support artists in their processes, with an understanding that artists know what resources they need to let their creative work soar. 
"Traditionally artist grants are given for discrete projects to be completed in specific parameters," states Diane Scott, director of artist services at Mid-America Arts Alliance. "Those are great, but often what artists need to really impact their careers is just what traditional businesses need: equipment, capacity-building, or research and development. This gift from the Windgate Foundation will allow these artists to strategically invest in what they need at this moment to take the next steps in their careers. It's a real game-changer."
Through the application process, artists were selected on the basis of their artistry, intended use and impact of the funding in their art practice, and the creation of a balanced peer cohort. Artists demonstrated a desire to participate in a multidisciplinary peer-based learning cohort,  will attend a professional development retreat June 24–25, 2023, in Little Rock, Arkansas, and receive ongoing small group support and mentorship throughout the following year.
About Catalyze

Combining money, mentoring, and management, the Catalyze program ignites change in the careers of individual artists. A program of Mid-America Arts Alliance made possible through the support of the Windgate Foundation, Catalyze provides practice-based grant funding, professional development, and coaching to artists of all disciplines in the central Arkansas counties of Cleburne, Conway, Faulkner, Garland, Grant, Hot Spring, Jefferson, Lonoke, Perry, Pope, Prairie, Pulaski, Saline, Van Buren, White, and Yell. 
Twenty-five more Catalyze fellowships of $10,000 will be awarded next year in 2024. The next round of applications will open in late 2023.
For additional information, please see maaa.org/catalyze.
About the Windgate Foundation 

Catalyze is made possible through a grant from the Windgate Foundation based in Little Rock, Arkansas. This support coincides with the recent announcement of Artspace Windgate Campus, the new $36 million mixed-use development in Little Rock's historic East End.  Combined, the two gifts make a significant investment in the arts ecosystem of central Arkansas.
The Windgate Foundation was established in 1993 and is a private, family foundation based in Little Rock, Arkansas. Windgate's goal is to advance contemporary craft and strengthen visual arts education in the United States. The foundation also supports children and youth in the State of Arkansas. Additional information can be found at www.windgatefoundation.org.
Photos of the first cohort of Catalyze grantees courtesy of the artists.