March 22, 2023
Meet Our Region's Next Artist Leaders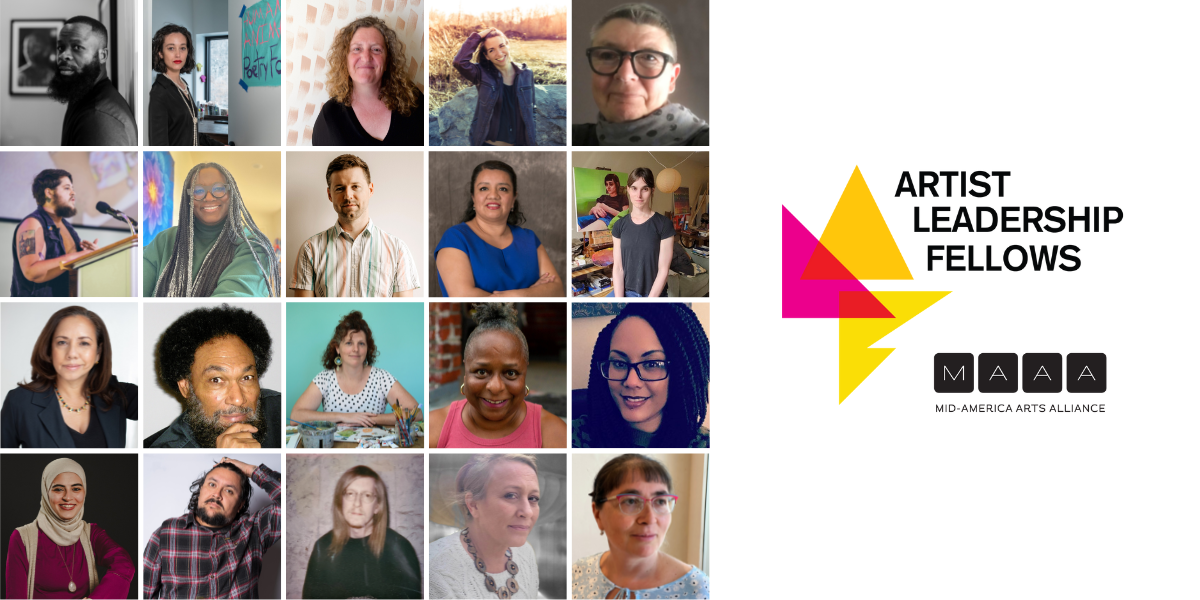 Twenty Artist Leadership Fellows Will Share Their Work on April 3
The second cohort of the Artist Leadership Fellows, program of Mid-America Arts Alliance, will share their work during a virtual public event on April 3, 2023, from 4:30 to 6:30 p.m. (CDT). Designed with belief in the power of artists supporting artists, the professional development program develops the talents of established artists to serve as future leaders in the arts. 
"There's something magical that happens when artists of all disciplines come together to support and inspire one another," explains Vanessa Aricco, a poet and current artist fellow. She will have the chance to use her leadership skills as a facilitator for the upcoming Artist INC Live professional development training program based in Kansas City this fall.
Aricco states that the fellows program, "sets up a strong base for us to continue the work that we do, spread the word for other artists and creatives, and expand our valuable and vital presence in our communities."
Through the program, artists deepen their knowledge, tools, and skills to strengthen their professional practices and directly apply them in a supportive small group environment with the mentorship of M-AAA's experienced peer facilitators. Topics include goal-setting, financial strategy, marketing, contracts, legal business structure, time management, and self-care.
Teleconferencing from locations throughout the Midwest, the artist fellows met virtually over eight weeks with senior peer facilitators to explore and develop their creative practices and learn how to facilitate other artists through their creative and professional journeys. 
The public is invited to join the culminating virtual "WorkShare"event on Monday, April 3, 2023, at 4:30 p.m. to 6:30 p.m. central daylight time, where they will share virtual short presentations about their work and creative practices. Guests must register in advance for the event. A virtual meeting link will be emailed upon registration. 
The current cohort of artist fellows are:
Oluwatobi Adewumi (McNeil, AR) is a multidisciplinary artist whose work explores his personal journey of having been born in Nigeria then moving and assimilating into American culture in conservative Arkansas.
Vanessa Aricco (Kansas City, MO) is a multimedia poet exploring conflict and duality, the precarious nature of life and the anxiety that arises from it. She was a Charlotte Street Foundation 2019–2022 Studio Resident. She splits her time between Kansas City and the San Luis Valley where she built a cabin with her partner during the pandemic.
Ilene Berman (St. Louis, MO) is a sculptor with a studio practice and a socially engaged arts practice aimed at addressing issues of social justice. Her practice is based on her belief that art can (and should) change the world. 
Tina Casagrand Foss (Jefferson City, MO) is a magazine publisher, journalist and essayist. Since founding the full-color, biannual print magazine The New Territory in 2016, she has collaborated with more than 350 writers, artists and editors from the Great Plains and Ozarks to unearth new stories focused on the environment, humanities, history and future of the Lower Midwest. 
con christeson's (St. Louis, MO) professional experience spans 30 years and includes studio, community, and public art practice, and teaching in higher education. Most recently, she's working on a project that gives a voice to people who experience homelessness in the community that marginalizes them. 
Brody Parrish Craig (Fayetteville, AR) is the author of Boyish, and editor of TWANG, a regional collection of trans, gender non-conforming & nonbinary (TGNC+) creators tied to the South and Midwest. As a white neuroqueer southern writer, their work strives to upheave expectations to open spaces for connection, unlearning, and change.
Zenique Gardner Perry (St. Louis, MO) is both writer and freedom fighter. Passionate about racial equity, social justice and change, Zenique aspires to use her written work to complement her work on the ground. She is also the co-founder of Undo Bias, a group that accompanies organizations in their move towards antiracism. 
Andrew Heise (Kansas City, MO) is Managing Director in the Regnier Institute for Entrepreneurship & Innovation and Assistant Teaching Professor in the Department of Entrepreneurship at University of Missouri-Kansas City's Bloch School of Management. Heise co-founded Arts Entrepreneurship Podcast: Making Art Work. He is a bassist and plays symphonic, jazz and rock. 
Araceli Lopez (Springdale, AR) is the Founder, Executive Director & Choreographer of Latin Art Organization of Arkansas and is a multidisciplinary artist. Originally from Zamora Michoacan, Mexico, she has more than 20 years of dance and academic experience in Mexican Folkloric Dance. Lopez is the recipient of the 2018 Cultural Leader Award (NWA Workers Justice Center) and a 2021 M-AAA Artists 360 award.
Hannah McBroom (St. Louis, MO) is a painter who works with the figure in landscape. She has attended residencies at The Vermont Studio Center and Chautauqua School of Art and has exhibited her work throughout the United States. She is a recipient of a M-AAA Artist 360 award.
Luisa Otero-Prada (St Louis, MO) draws inspiration from her native Colombia and fills her canvases with vibrant flora, people and colorful abstractions. She coordinated the "Doors of North STL" project for PEACE Weaving Wholeness and has served as curator for the Hispanic Chamber of Commerce of Greater St. Louis. 
Charles Pace (Texarkana, AR)  is a full-time national Chautauqua scholar who presents solo interpretations of the historical and literary characters Frederick Douglass, W.E.B. DuBois, Langston Hughes, and Malcolm X. Pace is a member of the Arkansas Arts Council's roster of touring artists and has conducted public diplomacy missions for the US State Department and the United States International Communications Agency.
Sarah Paulsen (St. Louis, MO)  is an artist, filmmaker and community organizer whose artwork has been exhibited widely in local and national exhibitions, and whose prize-winning films have been featured in the St. Louis International Film Festival, the True/False Film Festival, the Black Maria Film Festival, the Motivate Film Festival and the Chicago International Children's Film Festival, among many others.
Mariah Richardson (St. Louis, MO) is a playwright and director with a BA in Communications from the University of New Mexico and an MFA from Smith College in Playwriting. She has written 12 plays, two children's books, written and directed and produced four short films, and directs both plays and films. 
Alisha Saucedo (Topeka, KS) is a ceramic and fiber artist who seeks to build community through the creation of functional art. Her work is influenced by her experience as a Black artist and social worker in the midwest. She loves to share her art and experience with other creators of color.  
Kholoud Sawaf (Fayetteville, AR) was born and raised in Damascus, Syria. She has worked and trained in theatre and television in Syria, Lebanon, the United Arab Emirates, Qatar, and the United States. She was awarded a $250,000 grant from the Doris Duke Foundation and is the 2022 recipient of the M-AAA Artists 360 $25,000 Creative Impact Award. 
Chico Sierra (Kansas City, MO) Originally from El Paso Texas, visual artist Chico Sierra attempts to connect the dots of his cultural history and create new stories based around humanism, class structures, and social justice. His work has been exhibited in many galleries and museums including the Nelson Atkins Museum of Art and the Nerman Museum of Contemporary Art. 
Kody Stadler (Topeka, KS) is an interdisciplinary artist focusing on writing, photography, and experimental music born in Topeka, Kansas. His work has been published in Inscape and Angle magazines as well as displayed in Mulvane Art Museum and more.
Becki Waugh (Topeka, KS)  is a visual artist and arts administrator. She holds a master's degree in Arts Leadership and Management from Wichita State University. Her artwork has been included in Topeka-area exhibitions and private collections. She uses her passion for the arts to help implement impactful arts programs in her role as Programs Coordinator for ArtsConnect, a not-for-profit arts access organization.
Anna Zusman (Magnolia, AR) was born in the former Soviet Union and lived in New York City, Providence and San Francisco before settling in southern Arkansas six years ago. Due to her travels, she sees the world with the eye of an outsider, noticing strange things in what other people find familiar. She is an Associate Professor of Art and Design at Southern Arkansas University, and her artwork has been featured both nationally and internationally.
The senior artist peer facilitators leading the cohort are Eepi Chaad (Houston, TX), Nick Carswell (Lawrence, KS, Chris Dahlquist (Kansas City, MO), José Faus (Kansas City, MO) and Cory Imig (Kansas City, MO).
M-AAA's Artist Leadership Fellow program selects artists, who are nominated by community partner organizations, from a wide range of disciplines and perspectives. 
Fellows leave the program with a cross-discipline, geographically broad network of peer artists, the strategic framework to manage enduring artistic careers, and the tools to serve as facilitators and mentors to others in their home communities across M-AAA's region and beyond. 
Additional cohorts are planned for fall 2023. Each participating artist receives an honorarium of $500. 
Learn more about the Artist Leadership Fellows program.