May 16, 2023
Mid-America Arts Alliance's 50th Anniversary Block Party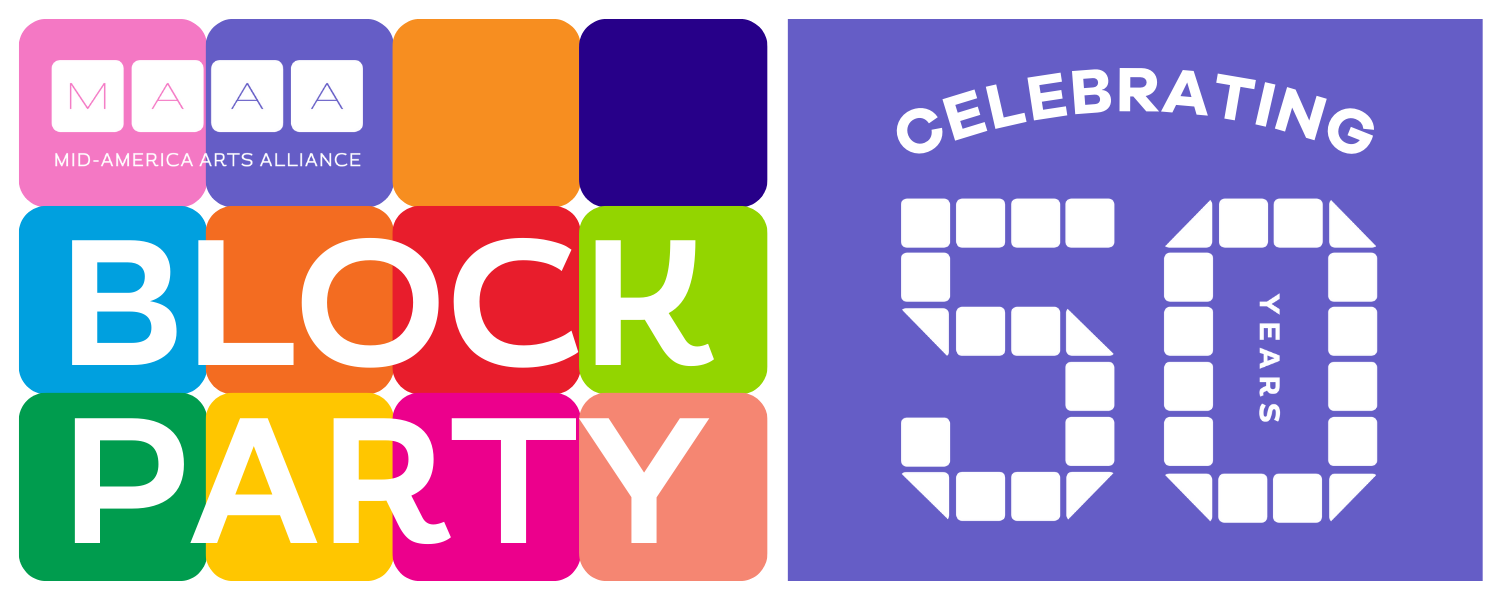 Celebrating 50 Years of Art with Live Performances and an Art Exhibition
Join us Friday, June 2, 2023, 5:30–8:00 p.m.
2018 Baltimore Avenue, Kansas City, Missouri
In its 50 years, Mid-America Arts Alliance has awarded more than $51 million in grants to more than 18,000 artists and cultural organizations, and engaged nearly 83 million children and adults in meaningful art experiences—enriching the cultural and creative life in its region of Arkansas, Kansas, Missouri, Nebraska, Oklahoma, Texas, and beyond. 
Today, M-AAA continues to award funds for innovative art, develop and tour exhibitions, and offer professional development to arts and arts organizations—all to open more experiences, start more conversations, spark creativity, make more connections, and bring more art to more people. 
"Our work would not be possible without the passion and commitment of our dedicated staff, our board members, our six state art agencies, our deep network of local arts organizations, and, of course, our generous private donors and national partners," states M-AAA president and CEO Todd Stein."We are grateful to be able to deliver this impact because of the deep network of arts champions throughout our region and the country."
To celebrate the arts and artists served during these past 50 years, M-AAA invites the public to attend the free 50th Anniversary Block Party on June 2, 2023, 5:30–8:00 p.m. in Kansas City, coinciding with Kansas City's First Friday in the Crossroads, with the generous support of the Neighborhood Tourism Development Fund, Richard J. Stern Foundation for the Arts, and National Endowment for the Arts. 
The Block Party will feature performances by past M-AAA grantees—artists Kalyn Fay Barnoski, interdisciplinary artist and musician from Oklahoma, and Justin Peter Kinkel-Schuster, songwriter from Arkansas—with DJ sets by Kansas City's DJ Ice Kole.
The M-AAA exhibition space, The Culture Lab, will feature the nationally touring ExhibitsUSA exhibition, Shutter and Sound: The Jazz Photography of Bob Willoughby.  The 50 images are jazz improvisation made manifest, giving the viewer a sense of vibrant jazz club intimacy. The photographs feature enthusiastic audiences, wistful singers, and jamming musicians including such greats as Ella Fitzgerald, Louis Armstrong, Miles Davis, and Dave Brubeck.
Performance Schedule
Performances will be held in the parking lot across from the M-AAA building entrance at 2018 Baltimore Avenue, Kansas City, Missouri. 
The event is free, wheelchair accessible, family friendly, and open to the public. First Friday in the Crossroads features additional local artists, food trucks, and vendors within walking distance. 
About the performers
Kalyn Fay Barnoski (they/them) (Cherokee Nation enrollee, Muscogee Creek descent) is an interdisciplinary artist, musician, curator, and educator from Oklahoma. Centering Indigenous and decolonial methodologies, their work focuses on self-location, community-building, collaboration, and empathy through the use of music, publication, storytelling, and contemporary craft. They hold an MFA from University of Arkansas (2021), an MA from the University of Tulsa (2016), and a BFA from Rogers State University (2012). They are a M-AAA Artists 360 grantee, Artist Leadership Fellow, and Artist INC Facilitator. https://www.kalynfay.com
Justin Peter (Pete) Kinkel-Schuster (he/him) is a songwriter living in Fayetteville, Arkansas, with his wife and their three dogs. In addition to two solo albums, Constant Stranger (2017) and Take Heart Take Care (2019), he is the principal songwriter for Water Liars and continues to collaborate with Will Johnson on the recording project Marie/Lepanto. For 15 years, Kinkel-Schuster has toured the United States, playing living rooms, bars, and concert halls. His work has been featured in The New York Times, No Depression, NPR, Daytrotter, and his songs have appeared nationally on primetime television and commercial advertisements. In 2020, in support of Water Liars' fourth album, he launched Constant Stranger Records. Kinkel-Schuster is a M-AAA Artists 360 grantee. www.constantstranger.com
DJ Ice Kole (she/her) is one of Kansas City's most popular female DJs. She works with 2 the MAAXE DJ Collective based in Kansas City. www.2themaaxe.com