June 30, 2021
Mural Project in Norton, Kansas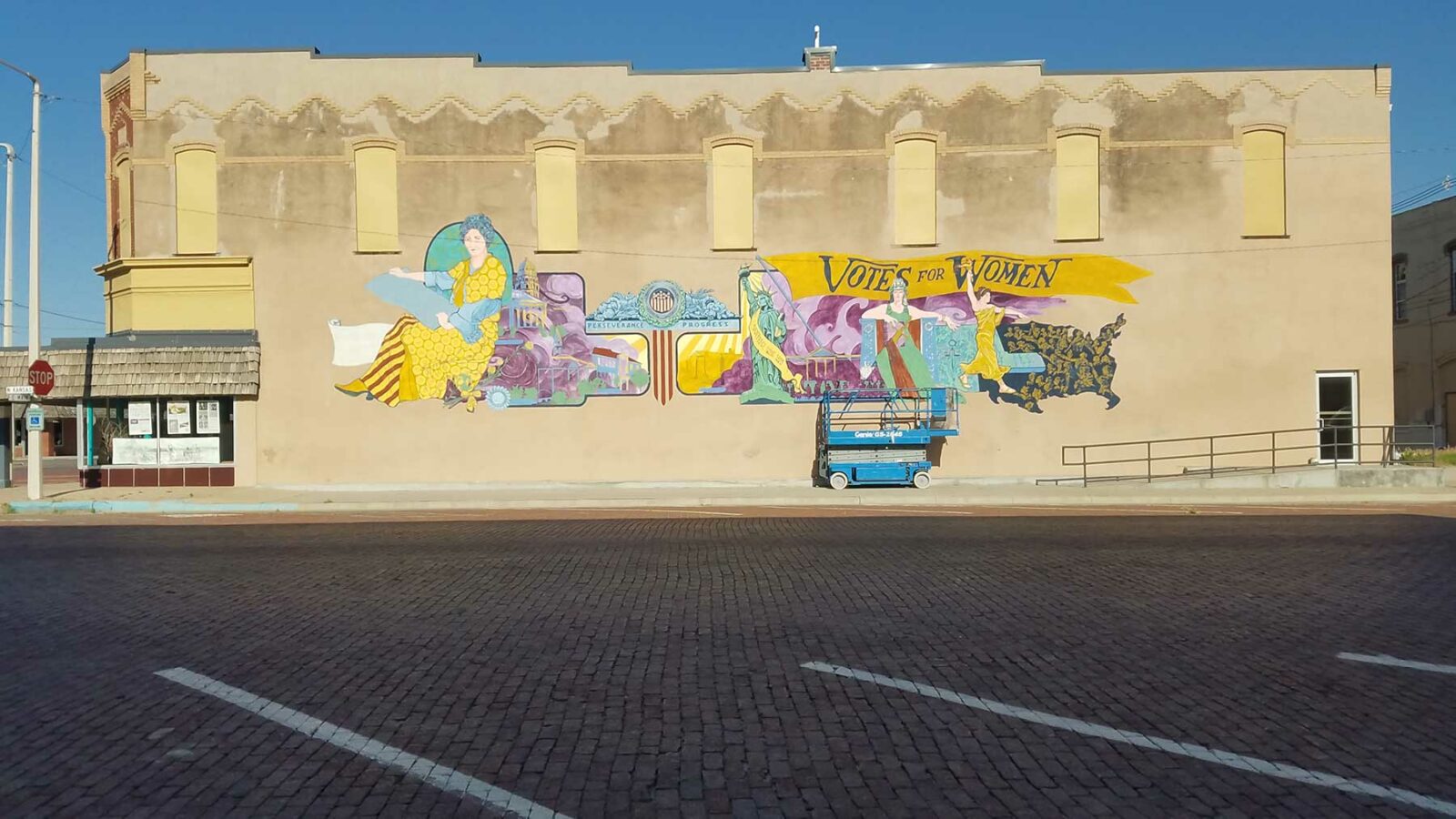 A Special Projects grant from Mid-America Arts Alliance with funding from the National Endowment for the Arts and the Women's Suffrage Centennial Commission allowed Kansas artist Erika Nelson to create a new mural to mark the 100th anniversary of women attaining the right to vote.
The artist, known for her work The World's Largest Collection of the World's Smallest Versions of the World's Largest Things, chose to partner with the rural town of Norton, Kansas (population 2,722) to celebrate one of its own—Ida W. Walker.
Kansas was central to the fight for women's voting rights in the early part of the twentieth century. Eight years before the national adoption, Kansas extended equal voting rights to women in 1912, becoming the ninth state in the nation to do so. Kansas's contributions to women's rights, including equal voting rights, began in Territorial Kansas days. Kansas women gained the right to vote in school district elections in 1861, and municipal elections in 1887.
In 1920, just after the 19th Amendment was ratified, Walker was one of the thirty-three women nationwide elected to a state legislature. That year, Kansas elected four female legislators, the second-highest in the country. Walker is featured, 14 feet high, in Nelson's bold and colorful mural, located across the street from the Norton County Courthouse. Walker represented Norton County, District 101 in the Kansas House of Representatives from 1921 through 1923.
Quoted in the High Plains Journal, artist Nelson says, "Having this giant from their history honored on one of the downtown buildings that looks out onto the courthouse is a story generator. It gives people a chance to remember Ida—because there are still some people here who do—and tell stories about her."
After completion of the project, Nelson wrote: "The Kansas Suffrage Mural Project would not have come to pass without funding and facilitation through M-AAA. The project expanded my own personal artistic practice, enabling me to plan and implement a community-based approach to placing public art, as well as a chance to work with a rural community in creating an artwork that is not placed upon a community, but grows from within that community's stories. …
"Local artists who had already connected through a previous initiative [Kansas Creative Arts Industries Commission and Artist INC training focused on Western Kansas creatives earlier in the year, so the conversations had already started] watched the process carefully, and large scale murals were started in neighboring communities within a few weeks of the Kansas Suffrage Mural project being painted.
"I know that this is not because of my own work, but the collected work of a group of artists out here in the wilds, connecting and sharing resources, encouraging growth, encouraging development of our own work, expanding those definitions, and helping each other realize bigger visions. Those efforts, paired with the involvement of artists at many levels of community development in these small towns (some are city administrators, some are chamber of commerce directors, they're do-ers and makers of community), have illustrated the power of the arts when integrated into community development conversations, not just added later as a decorative element."
This project has already created a lasting impact on the community and community developers. A local anonymous donor provided the seed money for a dedicated fund, managed through the local community foundation, with the directive to pay for more murals.