October 23, 2023
Prints and Passion: Reviving Community Art in Quarantine with a Nebraska Mural Project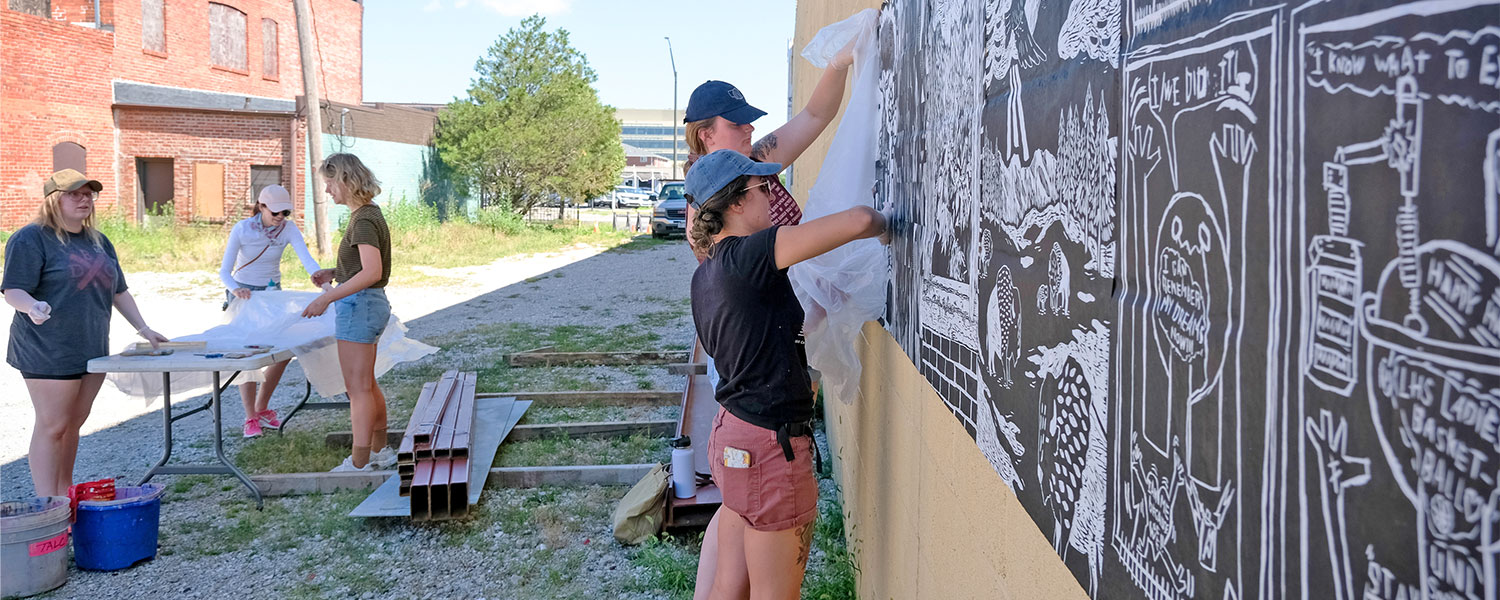 • By Becky Brown •
Bringing art to a community that's in quarantine is a real challenge. But in 2020, LUX Center for the Arts in Lincoln, Nebraska, found a creative way to do just that. It developed Nine Nebraska Artists: Woodcut Print Mural Project.
The program brought together creators who didn't necessarily incorporate printmaking into their regular art practices. These artists worked with Karen Kunc, a renowned printmaker and owner of Constellation Studios in Lincoln.
"The thought was to give Nebraska artists the opportunity to work with Karen and explore how their art medium can come through in printmaking," says Lindsey Clausen, associate director of LUX Center for the Arts. And the project was accessible, as the art could be installed anywhere at a time when there weren't a lot of exhibition opportunities.
Nine Nebraska Artists was a rousing success, bringing large-scale prints to locations around Lincoln and grabbing the public's attention. LUX decided to repeat the project every two years, but by 2022, funding had dried up.
Enter Mid-America Arts Alliance.
"We've been aware of Mid-America Arts Alliance for a long time," Lindsey says. "We've always wanted to apply for a grant, but hadn't found the right project. But we thought this really fit with their particular mission. It promotes artists right here in Nebraska"
The project also involves a steamroller. But more about that in a moment.
Thanks to an Artistic Innovations grant from M-AAA, LUX partnered with Constellation Studios again in the summer of 2022. Nine new Nebraska artists were able to take advantage of the studio facilities and the printmaking know-how of Karen Kunc. Once again, creators who didn't necessarily utilize printmaking regularly were able to interpret their art through a printmaking lens.
The project culminated in nine large-scale murals around Lincoln. The installations considered the architecture of the buildings they were on, but also the surrounding spaces. Each mural was unique, and because wheat paste was used for installation, each one weathered in a different way, too. Varying surfaces and exposure to the elements meant the murals evolved throughout the summer and fall, creating new experiences for the community.
"People love seeing public art pop up in their neighborhood," Lindsey says. "One of the comments was from people who walk their dogs in the neighborhood—they changed their route so they could walk by the installations. We heard that from people driving to work, that they changed their routes, too. Some people came out to look as the prints were installed; others came out to the steamroller."
So about that steamroller.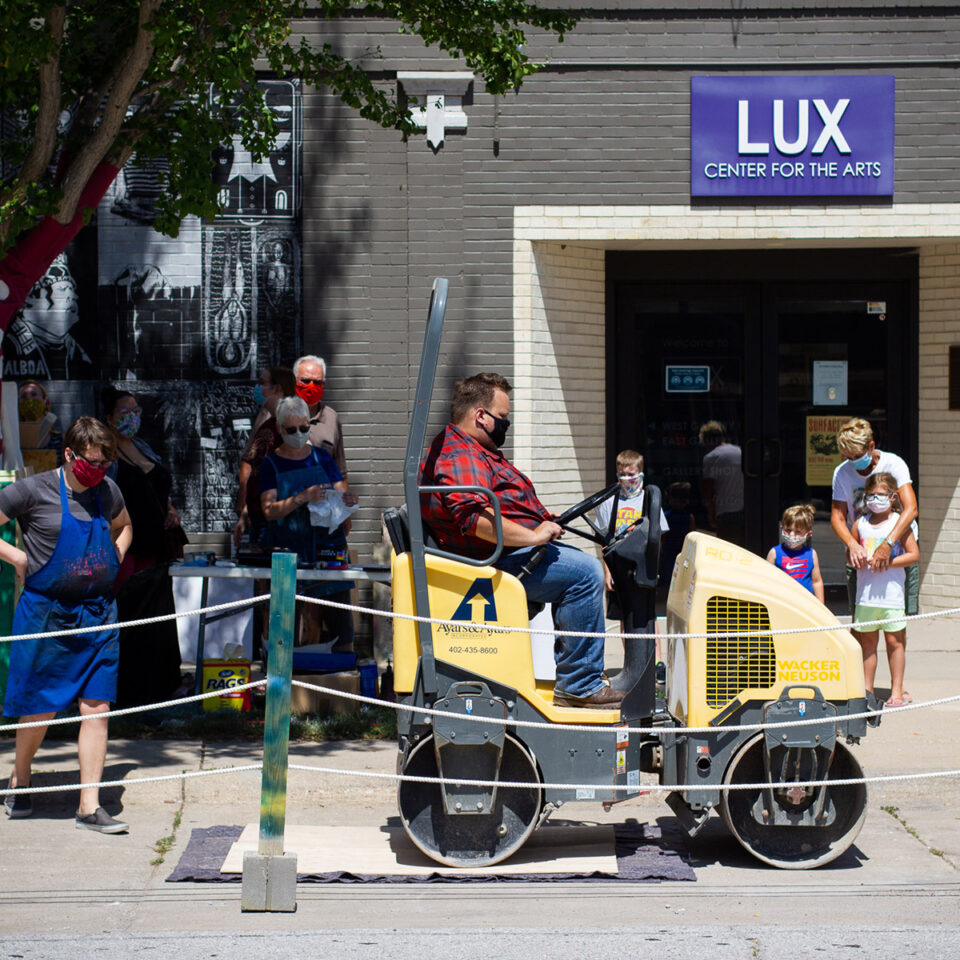 "At the end of the summer, before we started taking murals down, we did a steamroller printer day where we used the blocks and printed on a variety of materials, using a steamroller," Lindsey says. "It's a crowd pleaser for sure."
Hundreds of artists of all ages came out to watch and participate as the huge blocks from the project were inked up and used to print on all kinds of materials. Tote bags and T-shirts were popular items, but when a steamroller is part of the process, the rules tend to be a bit loose.
"It's very casual/experimental," Lindsey says. "In the lab, it can be a bit sterile—'Oh, don't get a fingerprint on that'—but outdoors, you have to let go."
In this project, experimentation was supported.
As first-time grant applicants, LUX received more than just financial assistance from M-AAA.
"I'm very appreciative of the M-AAA support throughout the process and their interest," Lindsey says. "Some funders don't follow up—you don't hear from them until a report is due. But M-AAA, they expressed interest throughout the process. They wanted to share photos for us. They took a real interest."
To be fair, Nine Nebraska Artists: Woodcut Print Mural Project is an interesting endeavor. But it also strikes at the heart of what the arts can do.
"We say at LUX that the arts are an alternative language for self-expression," Lindsey says. "Art builds bridges, and that's another component of this project. We were able to bring public art to areas that maybe didn't have it."
Through generous support from the National Endowment for the Arts, M-AAA's Artistic Innovations Grant Program supports individual artists and arts-based nonprofit organizations in Arkansas, Kansas, Missouri, Nebraska, Oklahoma, and Texas for projects that encourage the spirit of experimentation and exploration.
Photos courtesy of the Lux Center for the Arts, Lincoln, Nebraska.
Becky Brown is a freelance writer who loves to brag about people doing amazing things. When she's not highlighting the accomplishments of artists or small businesses, you can find her with her husband and menagerie of canine overlords.