November 6, 2023
Steve Snell's Adventure Art on the Mighty MO'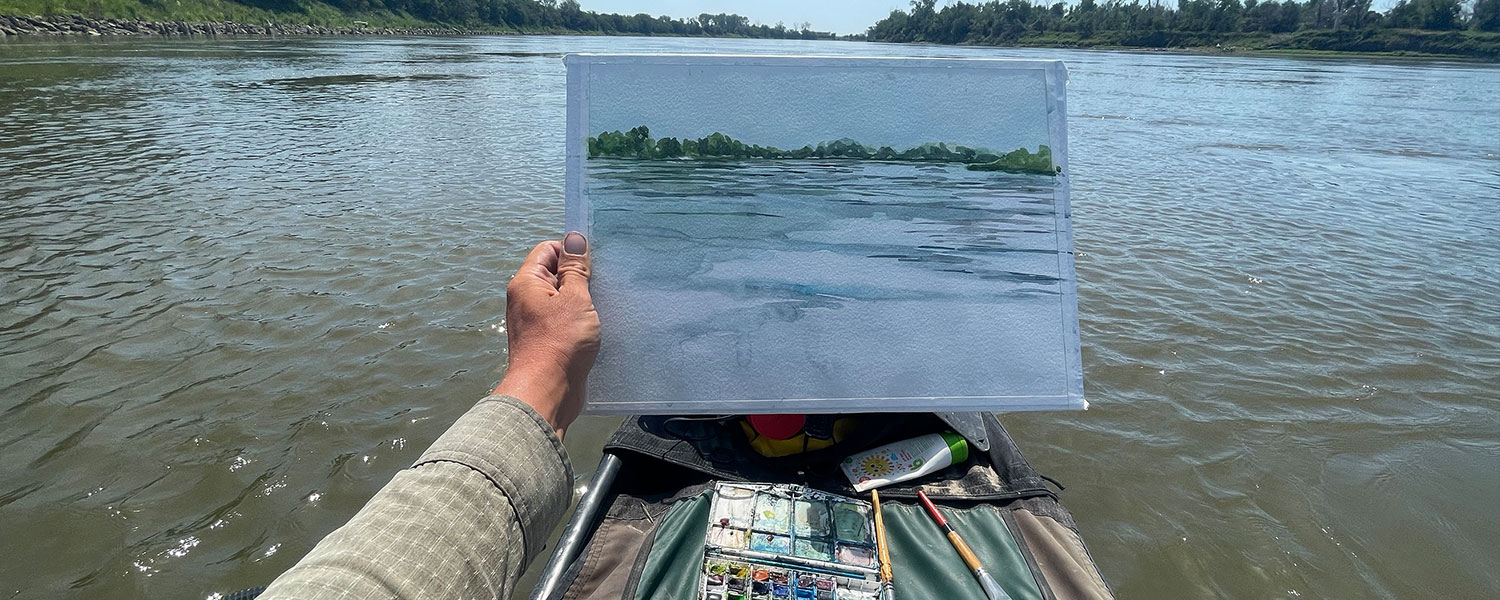 • By Becky Brown •
The best art doesn't necessarily come from the best conditions. A gorgeous studio with perfect light might lead a painter to produce . . . complete rubbish. But biting flies, unpredictable weather, and time on the water led Steve Snell to create . . . a rich, expansive narrative of the Missouri River.
A Kansas City-based painter, educator, and adventurer, Steve embarked on a solo paddle of all 2,341 miles of the Missouri River in 2022. His project, Adventure Art on the Mighty MO', tells the story of this trip through watercolors as well as video taken along the way. 
The result of his three-month trek is a work composed of more than 100 paintings as well as several video episodes. Each piece highlights his experiences and the natural beauty of the river. But with this project, the sum is greater than its parts.
"It's an opportunity for storytelling with the goal of building a portrait of the river from start to finish," Steve says. The intention was to challenge stereotypes associated with the river and inspire a greater appreciation of these spaces so far off the beaten path that . . . well, the only path is a river.
Starting at the headwaters in Montana, Steve paddled from eight to 14 hours each day, camping each night. He immersed himself in the places and experiences that were the subject of his art, using water from the Missouri River to create his watercolors. But much of the act of creation was making peace with letting go. 
After all, watercoloring in the rain has its limits.
"What I've found with this painting is that the more I try to control, the more I try to make this look like a photograph, the less interesting it is," Steve tells viewers in a video installment. "It's not a photograph; it's a painting. And what it is is a record of this time, this place, and this moment, and my perception of it. And I'm just trying to perceive it and capture that as honestly as I can."
That truth shines through the collective of Adventure Art on the Mighty MO'. Some paintings may be more water and less color than Steve would have preferred. And videos include the terror of paddling during a tornado, the frustration of trying to get a mouse out of the canoe, and the excitement of meeting a puppy whose owners would later name him Steve. It's a robust picture of the many facets of one human's experiences along one uniquely American waterway.
"I get up and do this kind of thing because it makes life more interesting," Steve says. "I don't see a huge separation between some of my art practice and just what I want to do with my life."
The Mid-America Arts Alliance helped make it possible.
A $15,000 Artistic Innovations Award from M-AAA empowered Steve to take this trip and take viewers along for the ride. He also introduced his paintings and the concepts of art and place to folks he met along the way.
"People just wanted to see what I was making, and I really appreciated these opportunities to share my work outside of just a strictly art context," Steve says. "It was refreshing to bring it out on a picnic table in the middle of a park somewhere and share with a stranger what you're working on when they're genuinely interested and asking to see."
From picnic tables to galleries, the watercolors have traveled, transporting Steve's experiences and locations along the Missouri River—and expanding the realities of art and place along the way. He also continues to produce video episodes about the trek, sorting through hundreds of hours of footage in order to best represent the physical spaces and the fleeting moments.
"I'm just so thankful for the Mid-America Arts Alliance for believing in it and helping financially support this endeavor," Steve says. "To know that others also believe in what you believe in is creatively reinforcing and inspiring to help follow through and not feel discouraged." 
Learn more about Steve Snell's Artistic Innovations project by watching this short interview on YouTube:
Photos courtesy of artist Steve Snell.
Becky Brown is a freelance writer who loves to brag about people doing amazing things. When she's not highlighting the accomplishments of artists or small businesses, you can find her with her husband and menagerie of canine overlords.
Learn more about M-AAA Artistic Innovations grants.