September 8, 2023
The Uvalde Love Project: Healing a Community through Art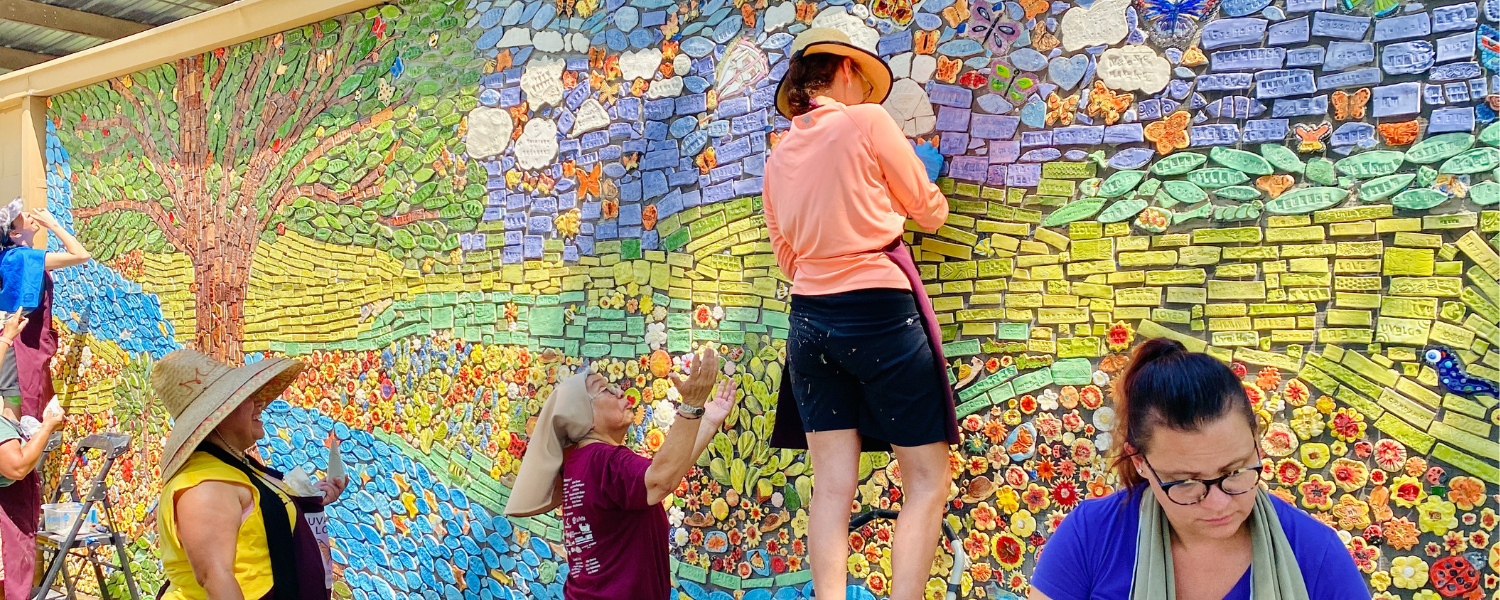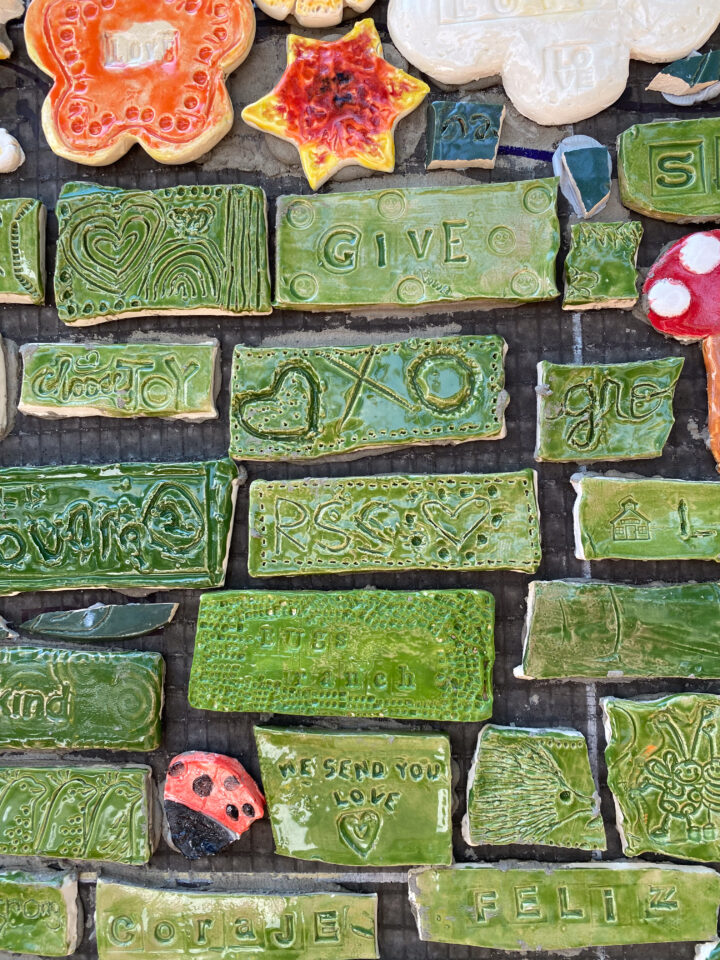 On her tippiest of tiptoes, she reaches over the mosaic waves of the Nueces River, past a field of sun-dappled blanket flowers and butterflies, just downstream from a large live oak, and less than a foot away from a howling coyote, to touch a grass-green tile etched with the shapes of a heart, an "x," and a circle.
Her tile. She claims it, with joy and pride. 
She's seven years old, and she lives in Uvalde, Texas. Earlier this year, she attended one of Wanda Montemayor's 40 Tacos and Tiles sessions, a series of workshops led by trauma-informed community artists to enable survivors of the school shooting that claimed the lives of 19 children and 2 teachers to gather together in a safe, nurturing, and non-clinical space. 
There, along with other children, teens, partners, teachers, and members of the Uvalde community, she stamped her message of love, accompanied by its kiss and hug, into damp clay.
Her tile is just one tile and one story in a 300-square-foot mosaic mural that was shaped, engraved, stamped, glazed, and installed at El Jardin de Los Heroes Park by over 2,000 volunteers and citizens in a community art installation of remembrance, joy, and hope.
This is the Uvalde Love Project.
The Uvalde Love Project is a healing project that utilized art therapy and ceramic tile making in an eight-month series of workshops in Uvalde, Texas. The project culminated in that mosaic mural, composed of thousands of handmade tiles crafted by the children, teachers, family members, and participants from Uvalde and surrounding communities. 
"The mosaic, however, isn't the project," Wanda Montemayor is quick to note. Montemayor, a licensed professional counselor supervisor and registered art therapist, led the Uvalde Love Project with her team of eight therapists.
"The process of making the mural"—molding and squeezing the clay, stamping the tiles, etching messages of encouragement and hope, building resiliency through creativity, side by side with other members of the community—that process, Montemayor says, "is the project."
What is art therapy?
Art therapy is a tool therapists use to help their patients interpret, express, and resolve their emotions and thoughts. The approach helps people address emotional issues by using a creative outlet, such as drawing, painting, dance, music, or ceramics. 
Art therapy engages the mind, body, and spirit in ways verbal articulation alone just can't. Making art allows for a non-verbal telling, which can make people feel safer and more likely to share their experiences. Creating an image or an object can also allow them to apply words, even actions, to what they feel. Art therapists then support the process by working with participants to discuss the work and put words to the trauma.
Being creative or having talent in art isn't necessary to reap the benefits of art therapy. The goal isn't to create aesthetically pleasing artwork. It's about expressing yourself and your story with imagery, movement, or other creative expression, especially when words don't flow easily.
Art therapy helps heal a community.
When Montemayor approached the city of Uvalde about doing a project to help the survivors—to help the town—heal, she knew that she wanted to offer them more than a memorial or a mural.
"In a town of fewer than 16,000 people, everyone was affected," says Montemayor, noting that many of the students and teachers had already had individual counseling. "They didn't want this tragic event to forever define them as a community. They wanted something that spoke to their resilience, that spoke to the future and healing."
Montemayor heard their need to connect and desire to heal.
For the Uvalde Love Project, Montemayor and her team of eight therapists drove from Austin to Uvalde three times a month for the better part of year. They hosted group therapy for children and parents, hosted workshops for teachers, and conducted 40 art therapy sessions, called Tacos and Tiles, where community members could join in making tiles for the mosaic mural in a space that didn't feel clinical. 
Group art therapy, she knew, could help them connect to each other in a safe environment, to express feelings through clay that they couldn't articulate, to be present, and to move through their pain and trauma. 
"We know that trauma is carried in the body," adds Montemayor, and touching clay induces stimulating neural input. Levels of the stress hormone, cortisol, have been known to lower when working with clay. "Working with your hands, working with clay, can be comforting and grounding. It can be a cathartic, healing experience."
As part of the project, Montemayor and her team are also developing a playbook and documentary for other groups interested in how to organize community mural projects.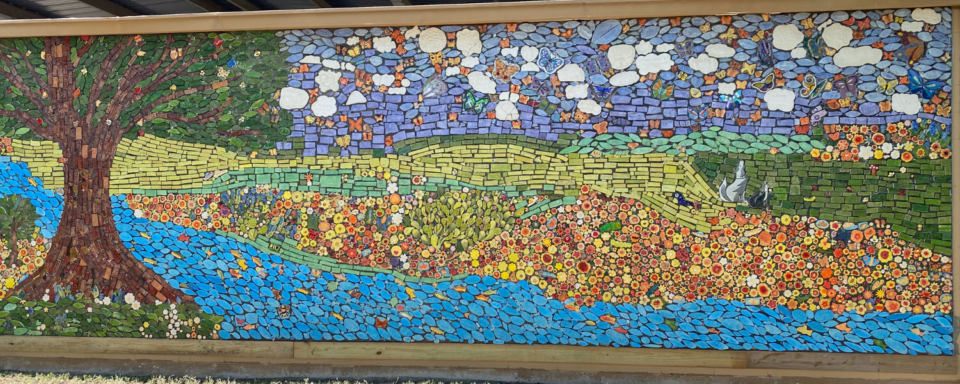 This is Uvalde.
The mosaic mural was installed over two weekends, with the help of 50 volunteers. Thousands of handmade tiles were fitted, and grouted, into a symbolic scene of Uvalde and of healing.
From a distance, you see the big picture, the complete mosaic rendered into a joyous, colorful, and vibrant scene. A sapling and a large live oak since Uvalde is called the tree city. The Nueces River, cutting through a field of blanket flowers, which are native to Texas. A coyote, the town's symbol, howling on the river's bank. And in the sky, 21 glass butterflies commemorate the lives lost. 
When you come close, you see the individual tiles and you can start to make out words. The pieces, the fragments, the messages, the names, the imprints and the hands, that make up the mosaic.
Amor. River of Life. Keep talking. Uvalde strong. All shall be well. Resilience. Hope works. You matter. Love wins.
Patience. Community. Se puede. Believe.
One day at a time.
Fuerza. 
The Uvalde Love Project is supported, in part, by a special projects grant from Mid-America Arts Alliance with additional support from the National Endowment for the Arts.
Photography by Ashley Schor, courtesy of Community Arts LLC.